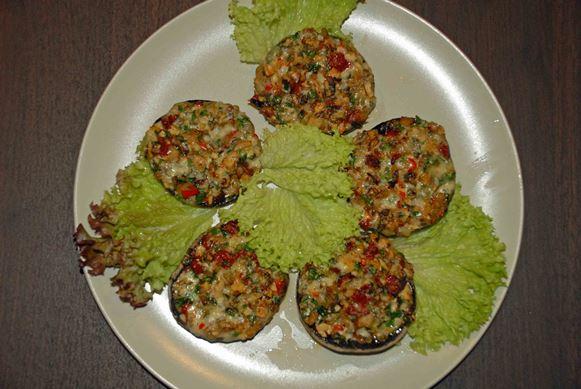 Recently on a blog, somebody asked a question about ways of dealing with autumn depression. For me, sometimes, the best way is to challenge yourself in the kitchen. Firstly I look for inspiration online or on paper. In the end I usually have to spend longer cleaning up after these inspirations than I spent cooking them, but what wouldn't you do to lift the mood? First I take stock of the fridge and larder, do some quick shopping and... mess in the kitchen. From this mess emerges something yummy and it is this moment I like the most.
On my last shopping trip, I spotted some extremely big and nice mushrooms. They were almost asking to be grilled or baked with delicious fillings. After a moment of contemplation, onion, gorgonzola cheese, walnuts and dried tomatoes appeared on the table. Just a mess in the kitchen and the dinner is ready.
Ingredients:
5 big mushrooms
150g of gorgonzola cheese
½ an onion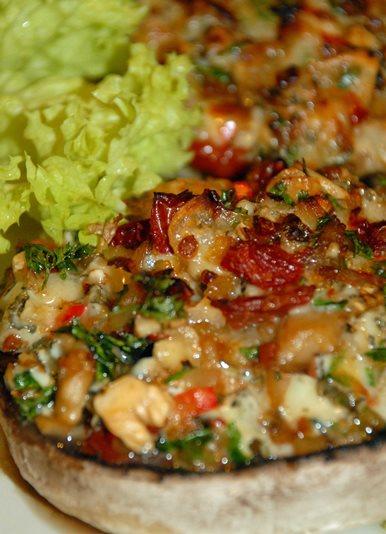 2 cloves of garlic
4 dried tomatoes in olive oil
6 walnuts
small chili pepper
2 tablespoons of butter
1 big fistful of minced parsley
salt and pepper
Heat the oven up to 180 C.
Peel the mushrooms and cut the stalks off. Cover a casserole dish with some baking paper, dot it with olive oil and put the mushrooms in. Spice them up with pepper and put little pieces of butter into them. Dice the mushroom stalks, onion, garlic, chili pepper and fry lightly in butter. Shell the walnuts and mince them. Dice the gorgonzola cheese and tomatoes. Mix the fried vegetables with walnuts, cheese, tomatoes and minced parsley. If necessary, spice it up with salt and pepper. Fill the mushrooms with the stuffing and bake for 15 minutes.
Enjoy your meal!