Maybe we are not original, but eggs are our favourite weekend breakfast product. We like scrambled eggs, eggs and ham, soft boiled eggs, shakshouka and others. We are constantly looking for new ideas to spice up our weekend breakfast.

One day on Nigella Lawson's TV show I saw an interesting dish: Turkish poached eggs with Greek yoghurt and roasted butter. I decided to recreate this meal. Nigella heated her yoghurt, but I love the contrast between hot eggs and cold yoghurt. You should try Turkish poached eggs. Serve them with crunchy toast or fresh bread. This dish is very easy and tastes excellent, and that is what a leisurely weekend breakfast is all about.

Ingredients (for 2 people)
8 tablespoons of Greek yoghurt
1 clove of garlic
3 tablespoons of butter
2 tablespoons of olive oil
half a teaspoon of sweet paprika
2 eggs
2 tablespoons of chopped chives or dill
1 tablespoon of vinegar
salt and pepper

Mix the yoghurt with the crushed garlic. Spice it up with salt and pepper and mix them in.
Heat the butter in a pan. Turn off the heat, add the olive oil and sweet paprika and mix them in.
Put the raw egg into a small bowl. Boil some water with two tablespoons of vinegar. Make a whirlpool in the water by stirring vigorously and put the egg in the middle of it. Boil on a low heat until the egg white is congealed (about 2-3 minutes). Take the egg out of the water and put it on the yoghurt. Sprinkle with the butter and chopped chives or dill. Serve at once.

Enjoy your meal!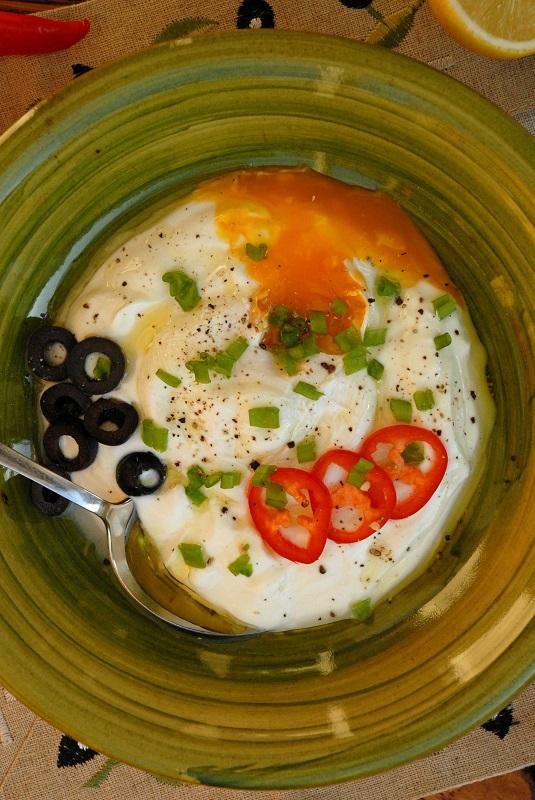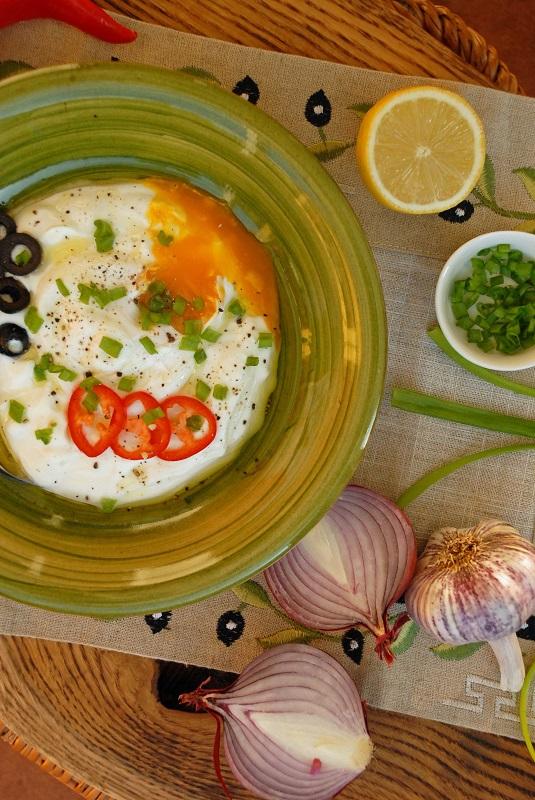 Try also:
Egg in a glass – a breakfast full of memories
Spring asparagus breakfast
Scrambled egg with chanterelles