The pumpkin is the kitchen queen of the autumn. In October and November it is often in my kitchen. I like its gentle taste and beautiful colour. This year, as well as traditional pumpkin soup with coconut milk which I have prepared a few times, I have been making pumpkin salads. These colourful, yummy dishes are an excellent autumn proposal for a light dinner or supper. If you would like to prepare something richer, add some pieces of roast meat to the salad. I assure you that your associates will envy the contents of your lunch box.

Today I would like to share with you the recipe for an autumn salad with pumpkin, quinoa, spinach and pomegranate. I add also feta cheese and my favourite roast cashew nuts. Simple vinaigrette is the finishing touch for the yummy dish.

Ingredients
half a butternut pumpkin
2 tablespoons of olive oil
1 tablespoon of chopped rosemary
salt and pepper
half a pomegranate
100g of feta cheese
100g of quinoa
200g of spinach
a fistful of cashew nuts
1 tablespoon of butter
vinaigrette

Heat the oven up to 190C. Notch the pumpkin so it has a checked pattern. Sprinkle with olive oil, spice it up with the rosemary, salt and pepper. Bake for 45 minutes until the pumpkin is soft.
Cook the quinoa in salty water. Melt the butter and fry the spinach with the quinoa. Roast the cashew nuts in a dry pan.
Peel the baked pumpkin and cube it. Arrange the pumpkin, spinach with quinoa, feta cheese, cashew nuts and pomegranate on a plate. Sprinkle with the vinaigrette and decorate with some parsley leaves.

Enjoy your meal!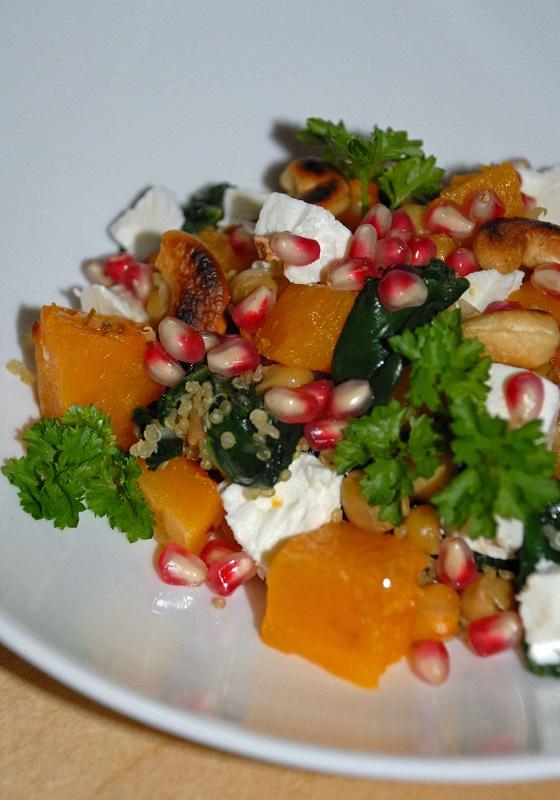 Try also
Lunch from the jar, i.e. layered salad in the office