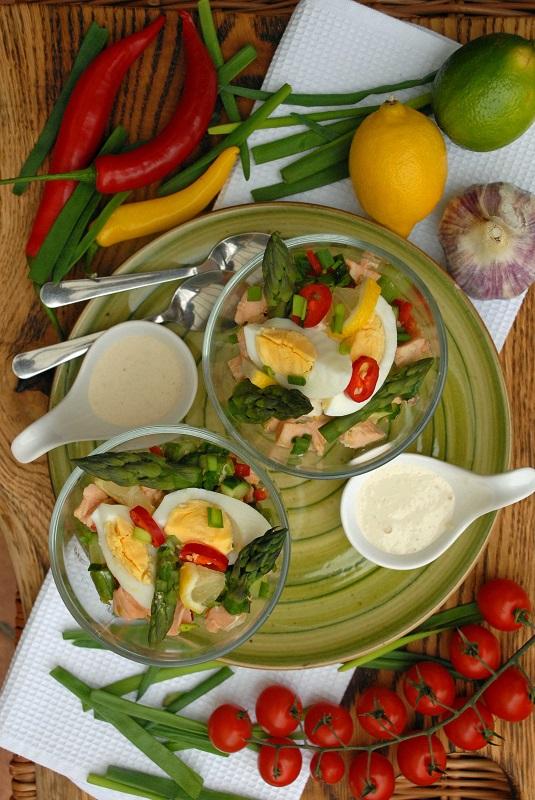 Today I offer you a light salad with an edge for dinner. Boiled salmon, crisp asparagus, refreshing cucumber and horseradish sauce with character. This summer salad is perfect as a snack, second breakfast or elegant dinner. It is perfect as a picnic dish packed in an airtight box or jar. We don't know if we will be able to travel later in the year, so maybe we should plan shorter picnic trips and eat something delicious in the bosom of nature.

Ingredients (for 2 people)
200g of salmon
a bunch of asparagus spears
cucumber
1 red pepper
4 tablespoons of chopped chives
2 eggs
100g of natural yoghurt
1 tablespoon of mayonnaise
2 tablespoons of horseradish
500ml of vegetable bouillon
2 bay leaves
3 allspices

Hard boil the eggs, peel them and cut them into quarters.
Cube the salmon and boil in the bouillon with the bay leaves and allspices. Boil the asparagus spears al dente and cut them into 1.5-cm pieces. Cube the cucumber and red pepper. Mix the yoghurt with the horseradish and mayonnaise. Mix the cucumber, pepper and asparagus spears. Add the horseradish sauce and mix it in. Add the pieces of salmon and the chives and stir gently. Put the salad into some bowls. Serve with the eggs and chives.

Enjoy your meal!

Try also:
Fruit salad with salmon and mozzarella cheese
A new approach to Greek salad
I feel green – refreshing salad with feta cheese