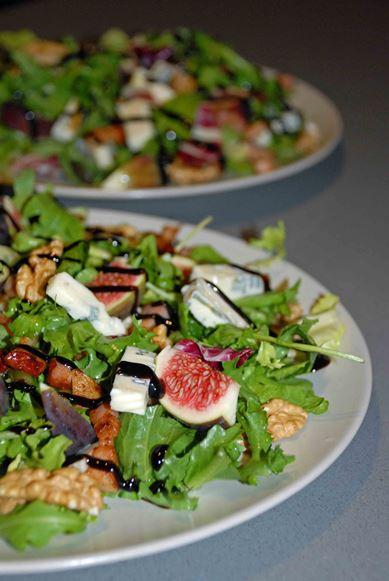 I have nice and warm associations of fresh figs with holidays in Croatia. Every morning my husband would wander to the bakery for bread, visiting on the way home market stands with beautiful, ripe fruits. I haven't eaten watermelons like they have there in a long time. They were intensely red, sweet and so juicy that we almost couldn't slice them. Heavily chilled in the fridge, they gave us relief on hot days.
Now whenever I encounter fresh figs I buy some of the ripest ones. They aren't so beautiful as the ones in Croatia but they still usually disappear before I can work out what to do with them. This time I saved two figs and added them to a salad.
Ingredients:
mixed lettuce
2 fresh figs
a handful of walnuts
100g of gorgonzola cheese
100g of American bacon (in one piece)
4 tablespoons of thick balsamico sauce
Clean the figs and cut them into small pieces. slice the cheese and bacon.  Fry the bacon in a dry frying pan. Add the bacon and cheese to the lettuce. Decorate with the figs and walnuts and sprinkle with sauce. Serve with a wine you like.
Enjoy your meal!