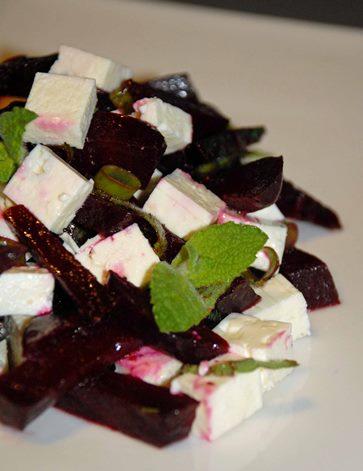 Beetroots have many culinary usages. The Most popular are soups and beetroot salad with horseradish to go with meat. The most valuable beetroots are those with dark flesh and thin skin and a uniform color inside. It is said that the most tasty are beetroots which are not bigger than 8 cm. The juice from these raw vegetables has the most nutritional value, so eating them in this form brings us the most healthy spoils. In second place among dishes are beetroots roasted in their skin. Next in line are soups and in last place, cooked beetroots.
The sweet taste of beetroots goes together perfectly with the taste of distinctive cheese, so today's recipe makes use of these ingredients.
Ingredients:
6 beetroots
150g of crumbled goat cheese
fistful of minced peppermint
3 tablespoons of olive oil
1 tablespoon of lemon juice
salt and pepper
Clean the beetroots thoroughly, cut the stumps, and wrap them in aluminum foil. Heat the oven up to 180 C and bake for one hour. Peel the baked beetroots and slice them into thick slices. Spice them up with salt and pepper and sprinkle them with olive oil and lemon juice. Mix them up. Add the crumbled goat cheese (if you don't like it you can use a different cheese, for example feta or Balkan cheese) and minced peppermint.
Enjoy your meal!