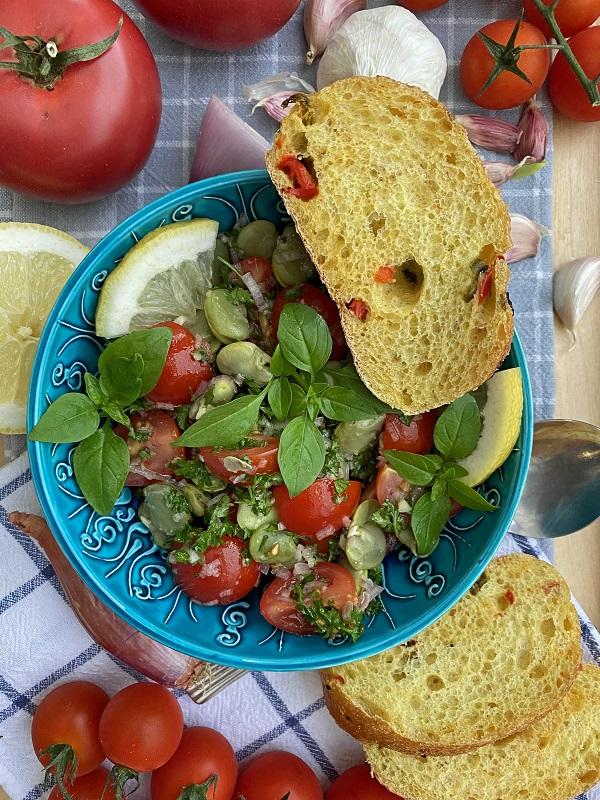 We love broad beans. After cooking I have to divide them into 4 perfectly equal groups, or there will be a great scene over the bowl: "Mum, he ate more!", "Dad, don't take three at once!" 

My love is so big that it's rare I don't eat everything at once. But sometimes (for example this time) using all my willpower I managed to peel some of them and prepare a delicious dish with this green delicacy. Today I present a quick and incredibly delicious spicy salad with broad beans and tomatoes. If you can resist, leave it till it has cooled down in the fridge for at least an hour. It is best when the flavours are mixed up.

Ingredients (for 2 people)
300g of broad beans
200g of cherry tomatoes
half a red onion
1 clove of garlic
chili pepper
3 tablespoons of chopped basil
2 big capers
3 tablespoons of olive oil
1 teaspoon of maple syrup
lemon
salt and pepper

Boil the bread beans al dente in salty water. Cool them down and peel them. Cut the cherry tomatoes into halves. Dice the garlic, onion, chili pepper and capers. Mix the olive oil, maple syrup, garlic, onion, capers and basil in a bowl. Add the sauce to the cherry tomatoes and mix it in. Add the broad beans, spice them up with salt and pepper and mix again. Leave it to cool down in the fridge. Sprinkle with the lemon juice before serving.

Enjoy your meal!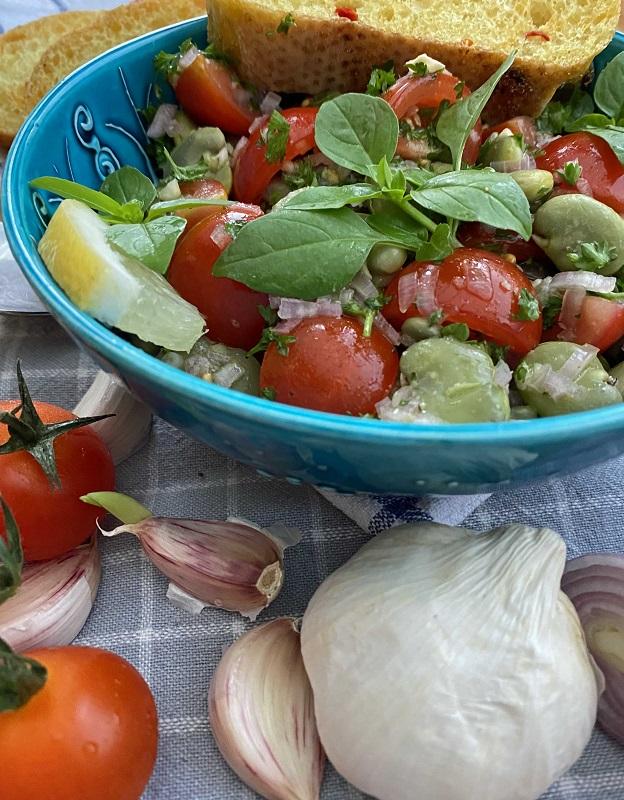 Try also:
Dinner salad with smoked salmon and green beans
Refreshing salad with broad beans
Lunch salad with kale, mushrooms and pearl barley