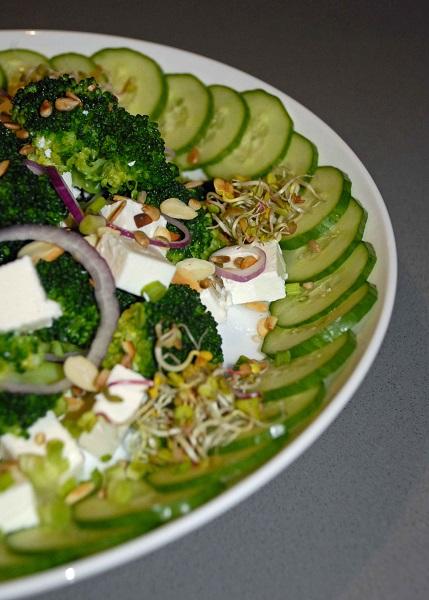 May is my favourite month of the year. The spring is in full bloom: greenery, flowers and sun. It is warm (most of the time), but not too hot yet, and on the market stands we have the first fresh vegetables.

The spring has made me a little crazy. All the salads I have made recently are green. The same happened last year. The main ingredients of today's salad are broccoli, feta cheese and fresh cucumber. You should make for this dish a light but distinctive garlic dip. So that it looks as good as it tastes, serve it in a separate small bowl, and only add it to the salad once it is on the plate.

Ingredients:
broccoli
150g of feta cheese
1 cucumber
1 small red onion
radish sprouts
a fistful of sunflower seeds
a fistful of almond slices
dip:
1 tablespoon of mayonnaise
3 tablespoons of yoghurt
2 cloves of garlic
salt and pepper

Break up the broccoli into flowerets, boil for 4 minutes in water with salt and sugar and then strain and sprinkle with cold water. Cube the feta cheese. Clean a cucumber and slice it. Fry the sunflower seeds and almond slices in a dry pan. Slice the onion. Arrange the broccoli, feta cheese, onion and cucumber on a plate. Decorate with the sunflower seeds, almond slices and radish sprouts. Crush a clove of garlic. Mix the ingredients for the dip, and spice it up with salt and pepper. Serve with the salad.

Enjoy your meal!