I have to get to the bottom of the phenomenon of bickies. They are nothing special but they are addictive, moreish and they don't let you leave if there is even the smallest crumb left on the plate. If you want to prepare almond-cinnamon cookies for Christmas, don't make the same mistake I did, and wait a few days. Unless you have stronger determination than me. My cookies are almost gone. I have to make them again, and again and again ... and maybe some of them will make it to the Christmas table.

I made almond-cinnamon cookies in a trice, just like I ate them. They were delicate, crunchy and had a beautiful Christmas smell. Make them in any shape or without any shape, sprinkle them with sugar or do what I did: decorate them with chocolate and almond flakes. However, you make them, the cookies will be excellent. Unfortunately.

Ingredients (45 cookies)
100g of ground almonds
200g of flour
100g of caster sugar
175g of butter
1 tablespoon of cinnamon
a pinch of salt
decoration
100g of dark chocolate
100g of white chocolate
almond flakes

Heat the oven up to 170C. Cover a baking sheet with baking paper.
Mix together the dry ingredients of the cookies: the flour, ground almonds, caster sugar, cinnamon and salt. Add the butter and knead into a smooth dough. Leave in the fridge for half an hour. Make balls with the dough and put them separately on the baking sheet. Bake for 12-14 minutes. Melt the two kind of chocolate in a bain-marie. Decorate the cookies with it and sprinkle with the almond flakes.

Enjoy your meal!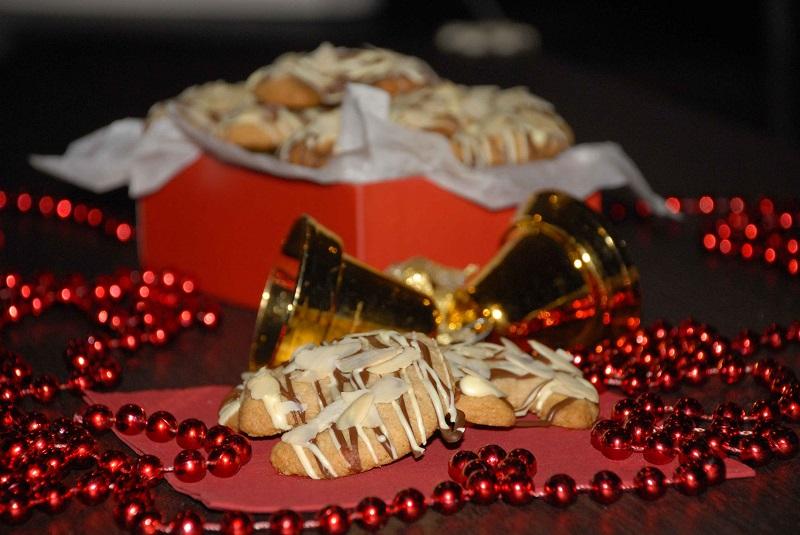 Try also
Millet groats cookies with tahini and chocolate
Sweet bunch of flowers
Afghan cookies