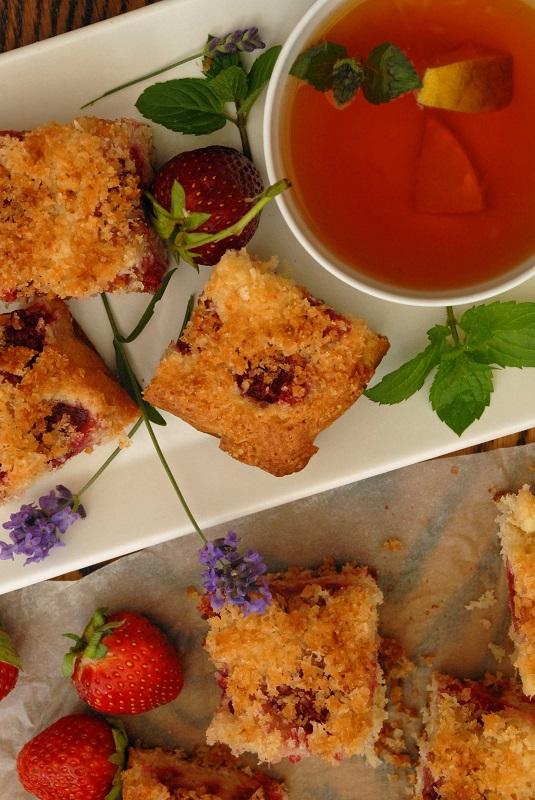 Before you make yogurt-coconut cake with raspberries, you should know that it is really dangerous baking. You can't go near it because the smell, look and taste are so delicious that it is hard to resist. You just have to eat at least one small slice. After one it appears that it is not enough, so you take another one and another one and... suddenly we see the end of the baking tray. If you don't have enough willpower, you'd better not go near it, because you will probably have to prepare another. My husband remarked, with his mouth full of tastiness, that it is a "cake at your own risk". Crunchy coconut shell, sweet and sour fruit, soft and moist cake; in a few words: "heaven in your mouth".

Ingredients:
dough
200g of raspberries
150g of flour
75g of brown sugar
1 egg
150g of natural yoghurt
60g of butter
1 teaspoon of vanilla essence
1 teaspoon of baking powder
1 tablespoon of coconut shreds
crumble topping
8 tablespoons of coconut shreds
3 tablespoons of butter
3 tablespoons of brown sugar

Heat the oven up to 180C. Cover a baking tin with some baking paper.
All the ingredients of the dough should be at room temperature. Start by preparing the crumble topping. Melt the butter in a pan. Add the coconut shreds and sugar and fry, stirring constantly for 2-3 minutes. Leave it to cool down.
Melt the butter and leave it to cool down. Whisk the egg with the sugar until you have a fluffy mixture. Add the natural yoghurt, butter and vanilla essence. Whisk them for a while. Add the flour, baking powder and mix them in. Put the dough into the baking tin. Arrange the raspberries on it. Put the crumble topping on top of the dough. Bake for 45 minutes.

Enjoy your meal!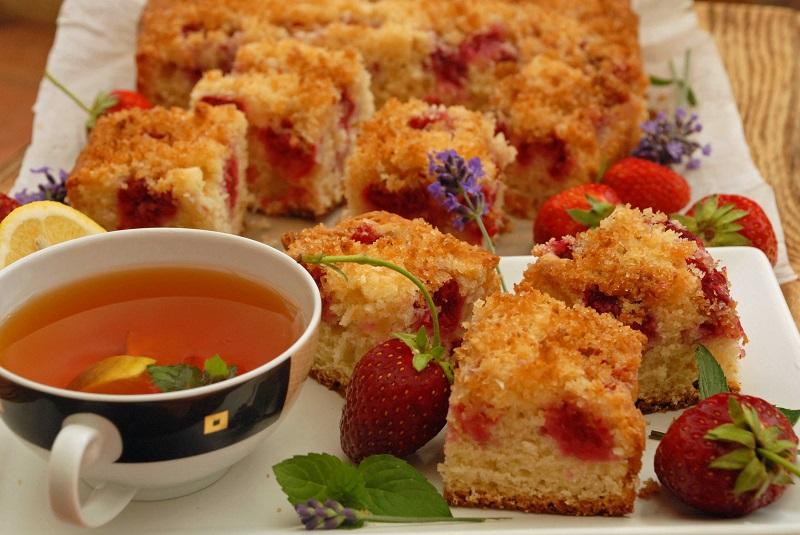 Try also:
Shortbread cake with rhubarb, budino and raspberries
Peaches with an oat and coconut crumble topping
Lemon-coconut cheesecake