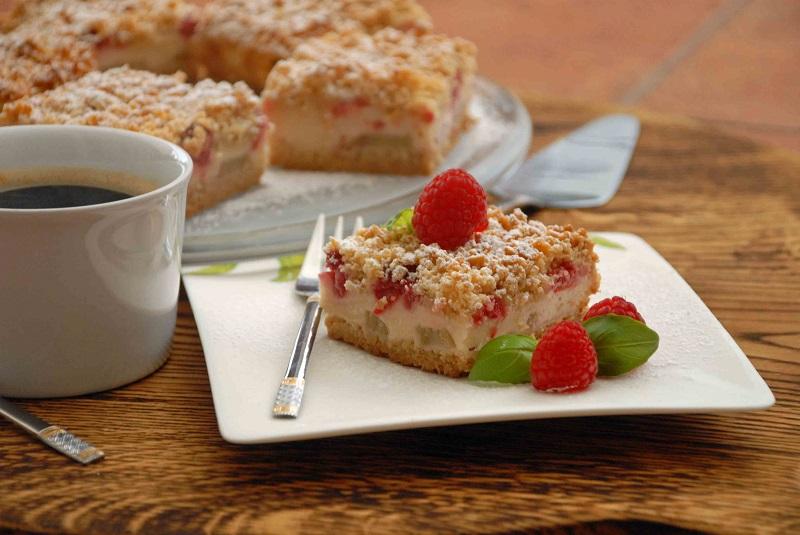 The sour pink-green stems of rhubarb are one of the symbols of spring. You should pick rhubarb at the turn of May and June, because the amount of calcium oxalate is low in young spears. In the course of time this amount is higher and the rhubarb can be impaired.

Today I used rhubarb to make a cake with budino and a crunchy crumble topping. It was yummy, moist, refreshing and excellent for a summer tea party. I will make it more often, because as well as its excellent flavour it has a couple of other assets: you don't need any sophisticated ingredients, you can prepare it easily and fast, and you can use any seasonal fruit.

Ingredients (20x20 cm cake tin):
200g of flour
1 tablespoon of potato flour
1 big tablespoon of peanut butter
100g of brown sugar
150g of butter
1 teaspoon of vanilla essence
1 teaspoon of baking powder
a pinch of salt
vanilla budino
350ml of milk
2 tablespoons of brown sugar
2 long stems of rhubarb
200g of raspberries
caster sugar

Mix the flour with the potato flour, baking powder and sugar. Add the chopped cold butter, peanut butter, vanilla essence and quickly knead into a smooth dough. Divide the dough into two parts (1/3 and 2/3). Wrap both of them in plastic wrap and leave in the fridge for an hour.
Heat the oven up to 180C. Cover the cake tin with some baking paper.
Prepare the thick blancmange. Stir the blancmange powder in 100ml of milk and the sugar. Boil the rest of the milk. Take the milk off the heat and pour the blancmange mixture into it. Boil for a while, stirring constantly. Turn off the heat.
Grate the bigger part of the dough onto a baking sheet and press lightly. Wash the rhubarb and slice them. Put the rhubarb on the bottom of the cake and the hot blancmange onto it. Arrange the raspberries on the blancmange and grate the rest of the dough onto the top. Bake for 45 minutes. Sprinkle with the caster sugar before serving.

Enjoy your meal!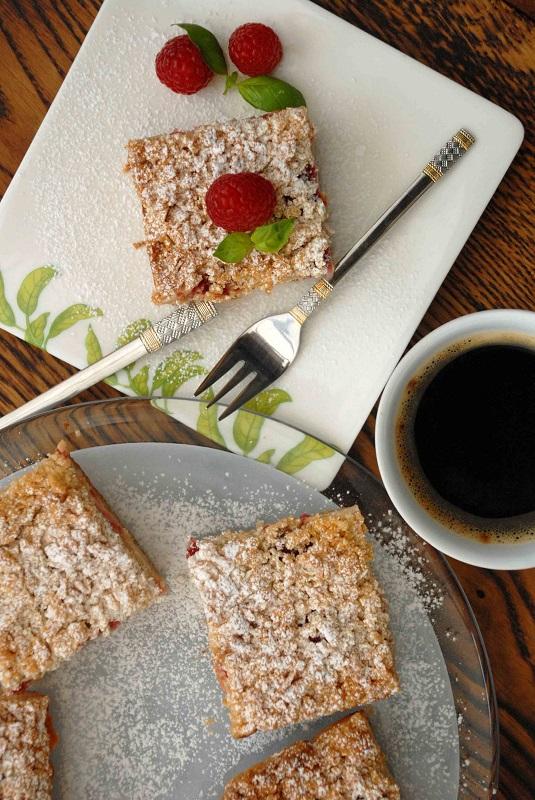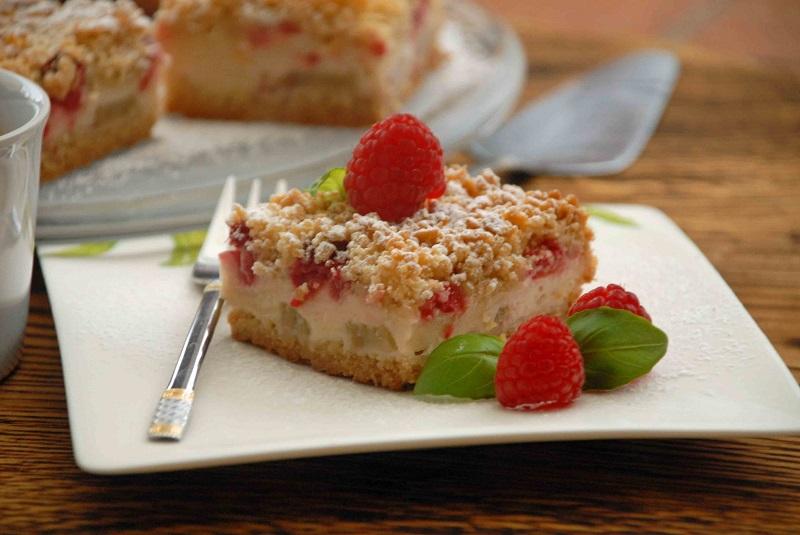 Try also:
Strawberry cake with blancmange
Flower tart with rhubarb
The perfect brownie