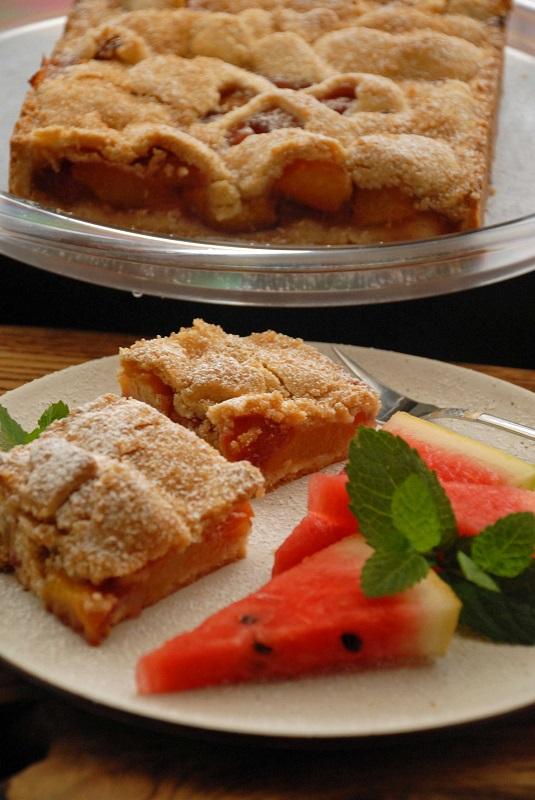 I have accustomed my family to the fact that at the weekend they get desserts or cakes after dinner. Sometimes I prepare dessert, but more often I bake a cake or some muffins - especially when there is a lot of fruit at the market. In the winter I will bake cookies with chocolate. For now, though, I can still use fruit. I like it when there is a lot of fruit in my cake and only a little dough. My cake with nectarines is just the way I like it. It is thin and crunchy and has a fruity, sweet and sour inside. Another good thing about this cake is that you may use any fruit: plums, apples or pears, and you can add almonds or cocoa to the dough. You get a new dessert every time.

Ingredients:
dough
350g of flour
5 tablespoons of brown sugar
200g of butter
1 teaspoon of vanilla essence
a pinch of salt
2-3 tablespoons of cold water
stuffing
4 nectarines
5 tablespoons of brown sugar
half a teaspoon of cinnamon
1 teaspoon of vanilla essence
40g of vanilla budino
1 tablespoon of potato flour

Heat the oven up to 190C. Cover a 20cm cake tin with some baking paper.
Mix the flour with the sugar and salt. Add the butter and chop it up very thin. Add cold water and knead into a smooth dough. Cover it in some plastic wrap and leave in the fridge for 1 hour.
Cut the nectarines into quarters and remove the stones. Cube them. Add the sugar, budino, cinnamon, vanilla essence and potato flour and mix them in.
Cut the dough into halves. Roll it out flat. Cover the cake tin with one of the flattened halves. Put the fruit onto the dough. Cover it with the rest of the dough. Lance the dough in the middle. Bake for 55 minutes. Sprinkle with some caster sugar before serving.

Enjoy your meal!

Try also:
Small chocolate-raspberry cake
Almond cake with grapes
Shortbread cake with rhubarb, budino and raspberries