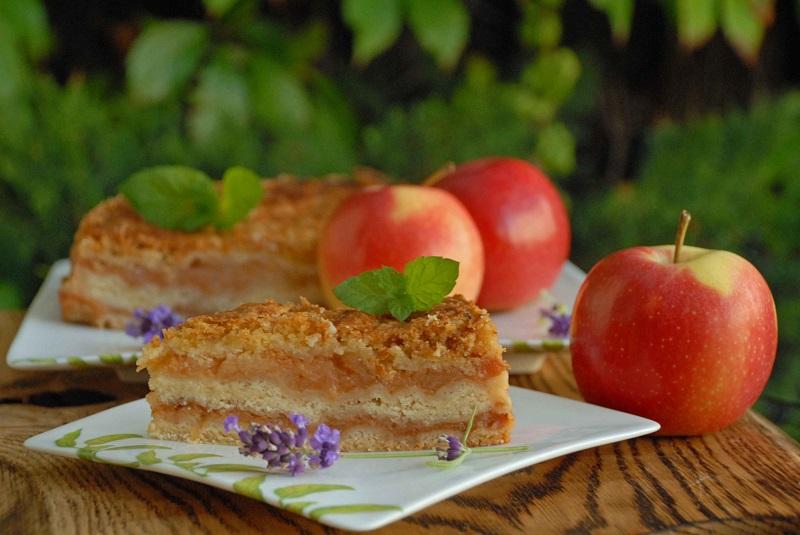 "When I grow up I will bake cakes. It is so easy." That's what my son said when we prepared a sprinkled apple pie for the first time. I really don't know of any easier cake. It would be easier to walk to the bakery, but the net effect isn't the same. And your home won't smell so beautifully of cake and apples.

The key to success is the apples. I like Antonovka for an apple cake, but, unfortunately, I can only rarely buy them at the market. I'm lucky that in one of the family gardens there is a big apple tree and once every two years it gifts us with a huge abundance of apples.

Ingredients (25 cm cake tin)
170g of wheat flour
200g of semolina
150g of brown sugar (+ 2 tablespoons of sugar)
1.5 teaspoons of baking powder
180g of butter
2 kg of apples
1 teaspoon of cinnamon

Heat the oven up to 180C. Cover the bottom of the cake tin with some baking paper. Smooth the whole cake tin (including the bottom) with some butter. Put the rest of the butter into the refrigerator for one hour.
Peel the apples and grate them. Mix with the cinnamon.
Mix the flour, semolina sugar and baking powder in a bowl. Divide the mixture into three parts. Put the first part into the cake tin and even it out. Put half of the apples onto it. Add the second part of the mixture, the second half of the apples and again the dry mixture. Even all the layers. Grate the butter on top and sprinkle with two tablespoons of brown sugar. Bake for one hour.

Enjoy your meal!

Try also
The hit of the weekend – almond cake with strawberries and crumble topping
Apple cake
Vanilla-almond tart with pears