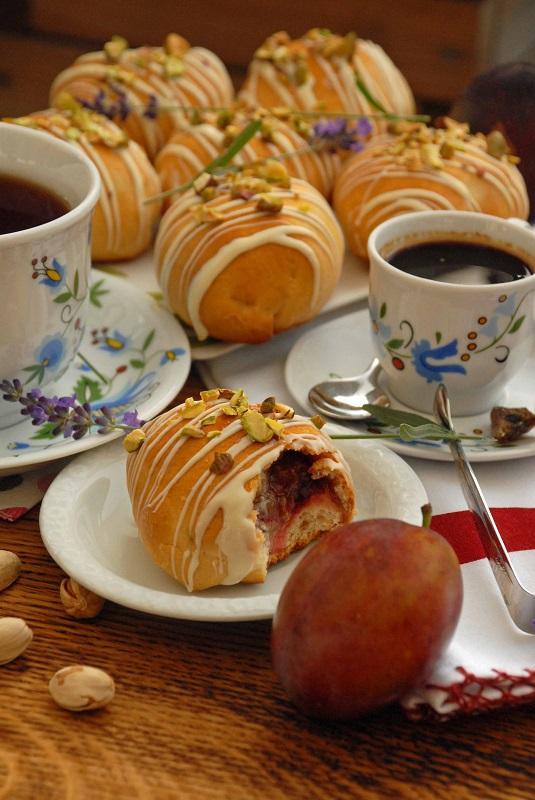 Autumn is coming really quickly and with it the moment I hate – the clocks changing to winter time. This situation ruins my mood before and long afterwards. In the 21st century changing the time makes no sense, so I am waiting for the year when the last week of October won't be associated with longer nights and stealing one hour from the already shortening daytime. Because the media is already telling me that in one month we have to change the time, I decided to cheer myself up and prepare delicious autumn rolls with plums and chocolate. This time I didn't use crumple topping. I decided to decorate them with white chocolate and crumbled pistachios. These subtle in taste, not-so-sweet striped rolls remind me of Tigger from the Winnie the Pooh movies, and they always make me smile.

Ingredients (8 buns)
dough
250g of flour
7g of dry yeast
1 egg
75g of sugar
125ml of milk
40g of butter
a pinch of salt
filling
4 big plums
8 teaspoons of plum stew
8 pieces of white chocolate
white chocolate and pistachios for decorating

Mix together the flour and dry yeast. Add the rest of the ingredients (except the butter) and knead the dough until it doesn't stick to your hand. Then add the melted butter (leave 2 tablespoons of the butter for later) and knead it again. The dough should be soft and flexible. Put the dough into a bowl sprinkled with flour and cover with a clean cloth and leave in a warm place for an hour and a half.
Heat the oven up to 180C. Cover a baking sheet with some baking paper.
Wash the plums. Cut them into halves and remove the stones.
Knead the dough again. Roll out the dough and cut it into 8 squares.
Put 1 teaspoon of the plum stew, one piece of white chocolate and a half of plum onto the centre of each square. Stick each bun together and put it onto the baking paper with the seam of the dough facing down. Leave in a warm place for 20 minutes. Smooth the top of the buns with the rest of the butter. Bake for 15-17 minutes. Decorate the baked buns with some white chocolate or sprinkle with the chopped pistachios.

Enjoy your meal!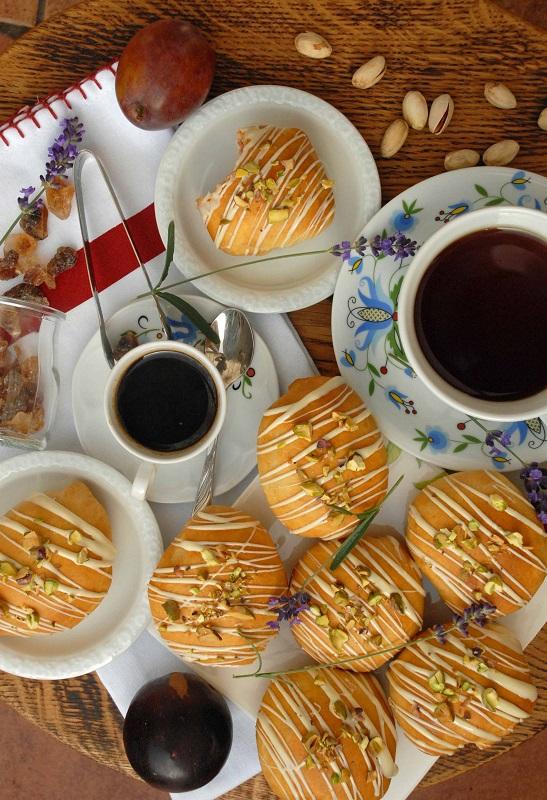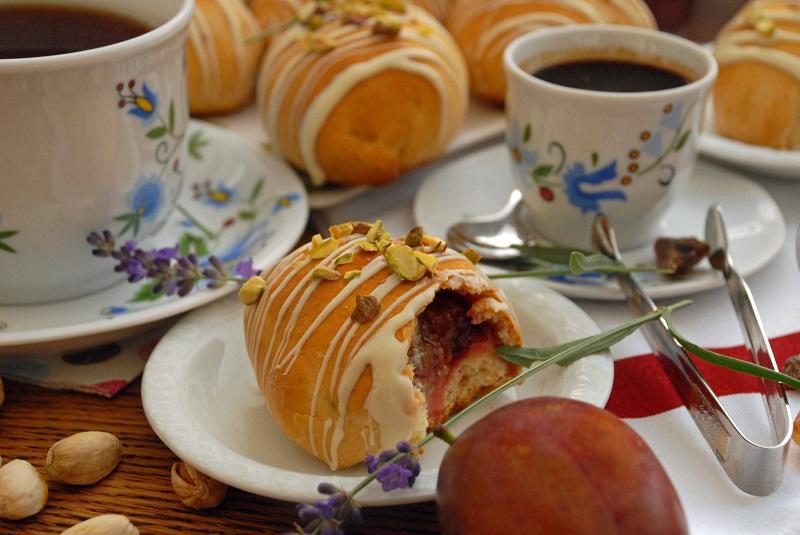 Try also:
I welcome the Christmas atmosphere, i.e. my cinnamon rolls
Blueberry buns – sweet symbol of the summer
Homemade buns with plums