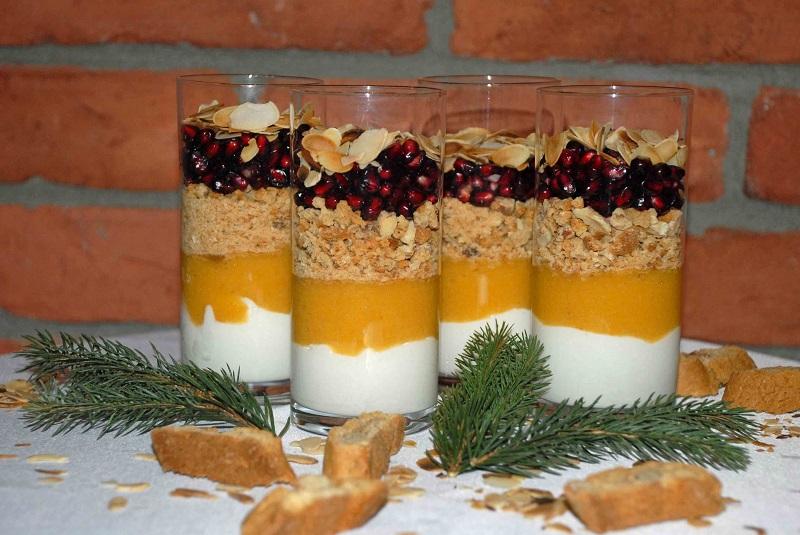 A layered dessert gives you a lot of options. You may prepare a dish which is equally sweet and sour, soft and crunchy. And it looks very decorative, which is important because first of all we eat with our eyes. Depending on the season I add different fruit to these dishes.

Today I got a beautiful ripe persimmon. Persimmon is high in vitamin A, ascorbic acid and fibre. It is an excellent ingredient of meals in winter when our body needs vitamins. Today the crunchy ingredients of my dessert were cantuccini cookies. These Italian cookies have a strong almond taste and are extremely crunchy, because they are double baked. My children love them. If you don't have any cantuccini you can use any other cookies or muesli.

Ingredients (for 4 people)
8 cantuccini cookies
300g of natural yoghurt
1 teaspoon of caster sugar
1 teaspoon of vanilla sugar
2 persimmons
50ml of orange juice
pomegranate
4 tablespoons of almond flakes

Mix the natural yoghurt with the caster sugar and vanilla sugar. Put it into the bottom of some bowls. Wash, peel and blend the persimmons with the orange juice. Put it onto the yoghurt layer. Put the cantuccini cookies in a plastic bag and crush them with a rolling pin. Put the cookie layer on top of the fruit layer. Decorate with the pomegranate and roast almond flakes.

Enjoy your meal!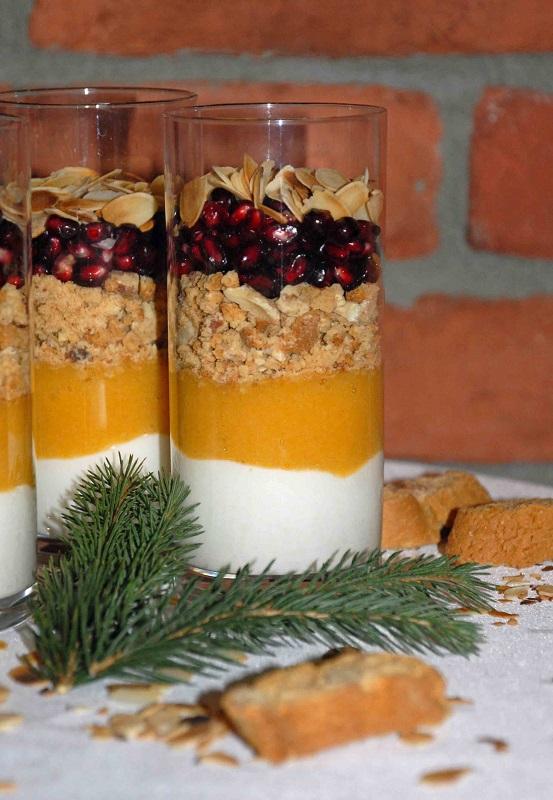 Try also:
"Snickers" – amber dessert
Quick and simple dessert with mango
Home-made kissel with red currants and gooseberries