Rolls with bilberries are a very important part of my culinary program. They are our favourite rolls, except for doughnuts. They remind us of our childhood and my grandma's kitchen. In the bakers we can buy bilberry rolls, but inside we sometimes find bilberry jam instead of fresh fruit. So, two or three times a year I try to prepare bilberry rolls at home. Then I can be sure that there is fresh fruit inside.

Today I would like to share with you the recipe for yeasty rolls decorated with lemon icing. They are excellent, so I always prepare a double serving.

Ingredients:
dough
250g of flour
7g of dry yeast
1 egg
75g of sugar
125ml of milk
40 g of butter
a pinch of salt
filling
4 tablespoons of butter
200g of billberies
a pinch of cinnamon
2 tablespoons of brown sugar
1 tablespoon of potato flour
lemon icing

Mix together the flour and dry yeast. Add the rest of the ingredients (except the butter) and knead the dough until it doesn't stick to your hand. Then add the melted butter and knead it again. The dough should be soft and flexible. Put the dough into a bowl sprinkled with flour and cover with a clean cloth and leave in a warm place for an hour and a half.
Heat the oven up to 180C. Cover a baking pan with some baking paper.
Wash and dry the bilberries and mix them in with the cinnamon, sugar and potato flour.
Knead the dough again. Roll out the dough and spread with 2 tablespoons of melted butter. Put the bilberries on top and roll the dough along the longer edge. Cut them into 2-cm slices. Put them onto the baking pan and spread with the rest of the melted butter and sprinkle with a bit of brown sugar. Leave in a warm place for 12-15 minutes. Bake for 40 minutes. Decorate with the lemon icing before serving.

Enjoy your meal!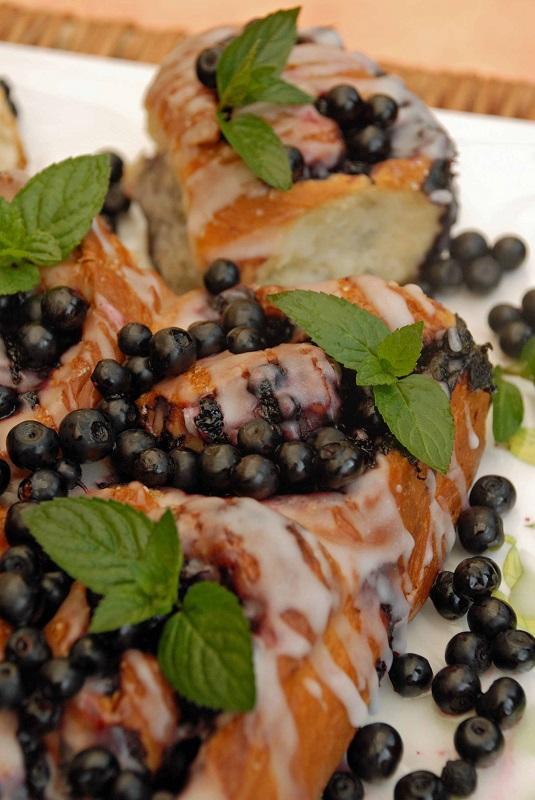 Try also:
Peaches with an oat and coconut crumble topping
Cranberry-apple cake
Swift French pastry with white chocolate, tahini and fruit