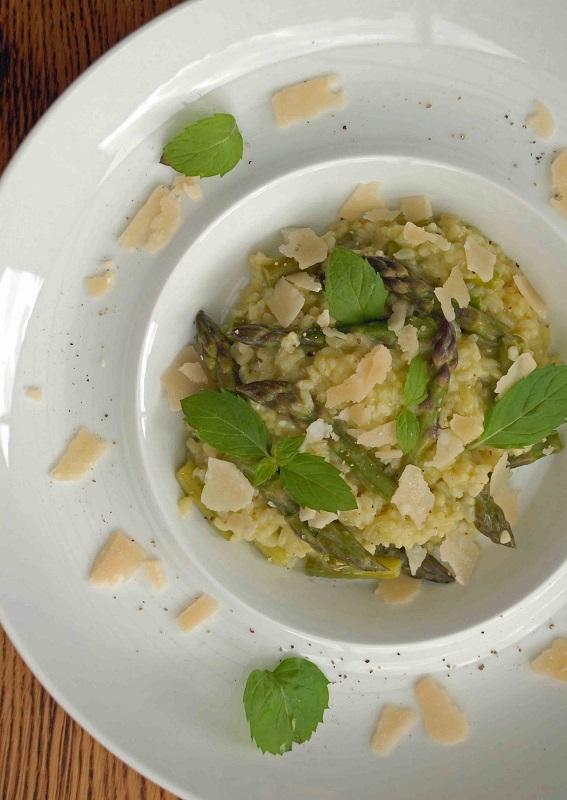 The key to risotto success is the rice. Risotto rice has short, squat seeds, which in my son's opinion don't resemble rice at all. They contain a lot of starch, which causes them to go gooey while cooking. Taking advantage of the asparagus spears season, I prepared a green asparagus risotto. I found the recipe for this dish on the "kwestia smaku" webpage. It turned out delicious. Because the rice was boiled in the asparagus spears' bouillon and you need to blend some of the asparagus spears and add them to the rice, the risotto had a nice green colour. The dry white wine and parmesan top off the work. One serving of this dish is definitely too little.

Ingredients:
500g of green asparagus spears
4 tablespoons of butter
1 big onion
100g of rice for the risotto
50ml of dry white wine
parmesan
salt and pepper
dice the onion

Cut off the hard stumps of the asparagus spears and peel them leaving 7cm below the top. Don't throw away the stumps and peel. Melt 1 tablespoon of butter in a pan, add 1/3 of the onion and fry it (don't brown it). Add the stumps and peel and fry for 2-3 minutes. Put everything into a saucepan, pour in 1 litre of salty water and boil for 30 minutes. Strain to make clean asparagus bouillon.
Cut the top off the peeled asparagus spears and cut the stems into 3-cm pieces. Melt 1 tablespoon of butter in a pan, add 1/3 of the onion and fry it (don't brown it). Add the cut stems and fry for 5 minutes, and then add the tops and fry for 3 minutes. Take a few pieces of the stems from the pan and blend them thoroughly. Spice it up with salt and pepper.
Melt the butter in a saucepan with a heavy bottom and fry the rest of the onion in it. Add the rice and fry until the seeds are glazy. Pour in the wine and boil until the wine evaporates. Add half a glass of the asparagus bouillon and boil the rice. Wait until the rice soaks up the portion of the bouillon before you pour in the next one. Add the fried pieces of asparagus and asparagus mousse after 10-12 minutes of boiling. Boil the risotto for 6-8 minutes, topping up with the bouillon. Turn off the heat, wait a while and add the rest of the butter and mix it in. If necessary, spice up the risotto with salt and pepper. Sprinkle with the parmesan before serving.

Enjoy your meal!

Try also:
Kaszotto with the asparagus spears and dried tomatoes
My "pęczotto" with chanterelles
A fast dinner – buckwheat groats with feta cheese and dried tomatoes