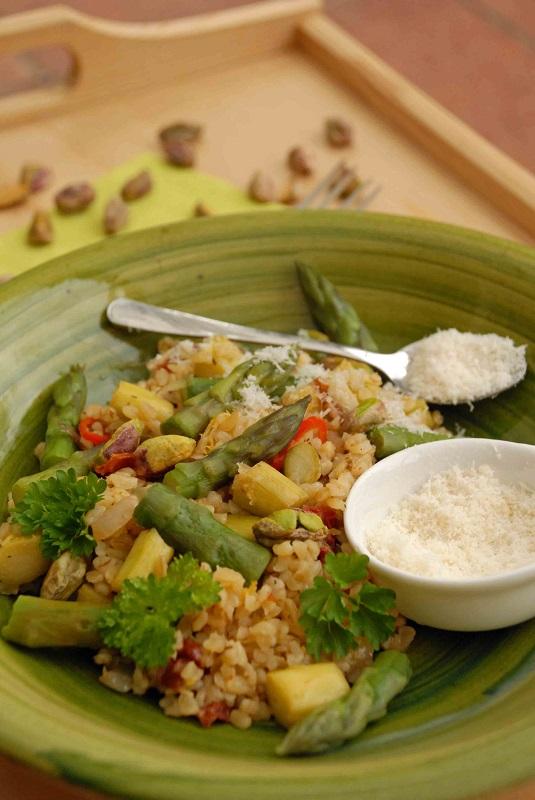 I love it when asparagus spears are in season. We eat one bunch and almost the next day buy another one. We really like asparagus spears. We especially like them green, steamed, roasted, fried, for breakfast, lunch and dinner. This year for the first time we ate asparagus with a pistachio-lemon crumble topping. This time I prepared kaszotto (similar to risotto with rice, "kaszotto" is a dish with any kind of groats). Green asparagus spears with dried tomatoes and pistachios are an excellent ingredient for groats dishes.

The idea for this dish comes from the Lidl culinary book. I prepared it in my own way. In the original recipe there is quinoa. I used bulgur. You can use your favourite kind of groats. I think that pearl barley could be great. You just need to cook it for longer.

Ingredients (for 2 people)
a bunch of asparagus spears
100g of bulgur
a few dried tomatoes in oil
half an onion
2 cloves of garlic
half a chili pepper
1 teaspoon of butter
a few sprigs of thyme
1 tablespoon of lemon peel
pistachios
parmesan
salt and pepper

Boil the bulgur until is almost soft (for 2 minutes shorter than in the recipe on the box). Cut off the hard stumps of the asparagus spears and peel them leaving 5cm below the top. Don't throw away the stumps and peel. Boil them in salty water for 30 minutes. Cut the top off the peeled asparagus spears and cut the stems into 1-cm pieces. Dice the onion and tomatoes, and slice the garlic and chili pepper. Put the butter and two tablespoons of oil from the dried tomatoes into a lightly warmed pan. Add the onion, garlic and chili pepper and fry them. Add the cut stems and thyme. Pour in 3-4 tablespoons of asparagus brew. Boil for 3-4 minutes. Add the dried tomatoes and boil for 1 minute. Add the bulgur and mix it in. Add 2-3 tablespoons of asparagus brew and boil for 2-3 minutes. Spice up the kaszotto with salt, pepper and lemon peel. Mix them in. Put the tops of the asparagus spears with 2-3 tablespoons of oil from the tomatoes in a pan and blanch them for 2-3 minutes. They should be crunchy. Add them to the kaszotto. Add the pistachios and parmesan before serving.

Enjoy your meal!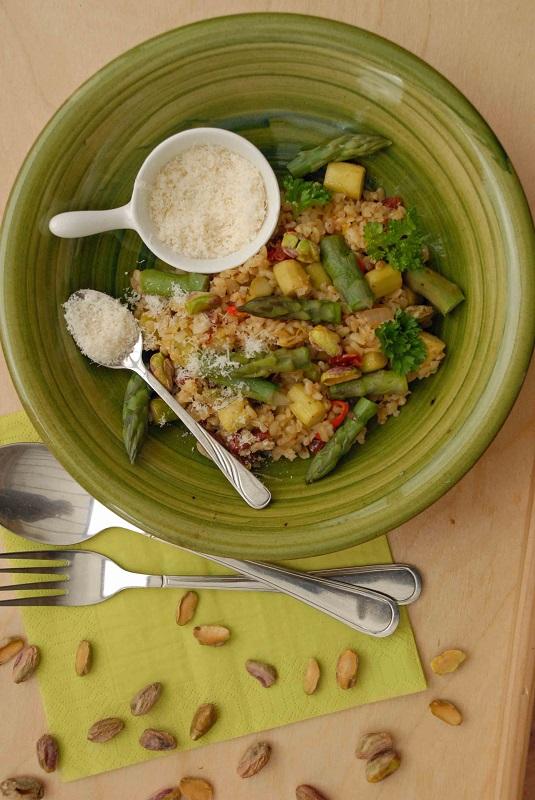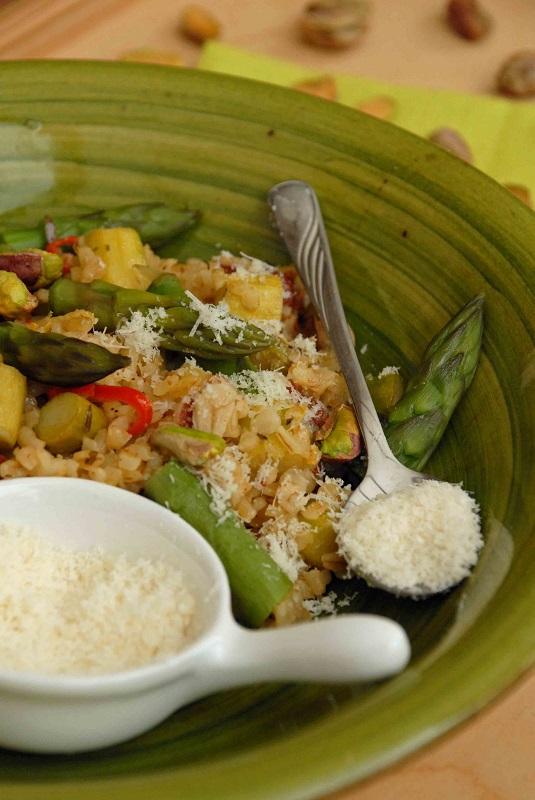 Try also:
My "pęczotto" with chanterelles
Sicilian pasta with pistachios
A fast dinner – buckwheat groats with feta cheese and dried tomatoes