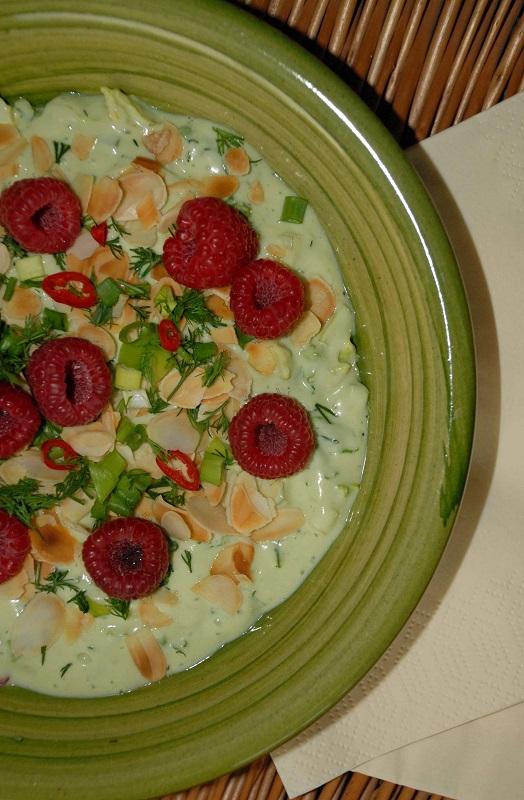 Even though the weather outside doesn't resemble the hot summer at all, I prepared a typical summer soup. It wasn't a dinner dish, but rather a light lunch, and in the summer for sure I will prepare it often. I served the cold soup with natural yoghurt, avocado and lettuce with roast almond flakes and raspberries. It wooed me with its looks and taste. It was the best cold soup I have eaten up to now. The idea for this dish comes from www.jadłonomia.pl but I prepared and served it in my own way.

Ingredients (for 2 people)
400ml of natural yoghurt
200ml of vege milk
1 avocado
6 tablespoons of chopped lettuce
4 tablespoons of chopped chives
4 tablespoons of chopped dill
4 tablespoons of almond flakes
a piece of chili pepper
a few raspberries

Blend the raspberries, milk and avocado thoroughly. Spice it up with salt and pepper. Add the chopped lettuce (any kind), chopped dill and chives. Mix them in. Put the cold soup into some bowls. Decorate with some roast almond flakes and raspberries before serving.

Enjoy your meal!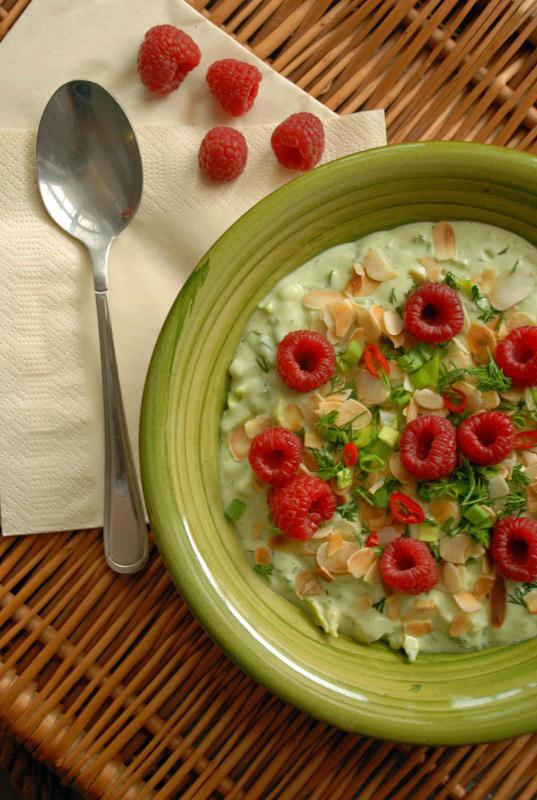 Try also
Caprese salad for dinner
Healthy salad with quinoa
The best soup for hot weather – cold radish soup