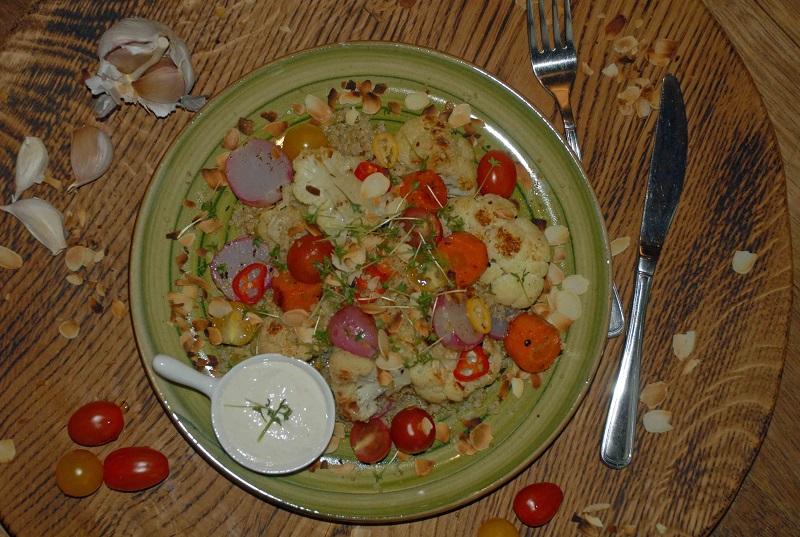 Today I would like to share with you an idea for vegetable mess on a plate. It is a dish which tastes better than it looks. This time I made an exception to the rule that we eat first with our eyes; I closed my eyes and chowed down

. The main ingredients of this dish are roasted vegetables: cauliflower, radishes and carrots, tomatoes and quinoa. I added roasted almond flakes and cress. At the beginning I planned to add garlic sauce, but I wanted to meet my friends, so out of respect for them I prepared horseradish sauce. It was excellent.

Ingredients (for 2 people)
half a cauliflower
8 radishes
2 carrots
10 cherry tomatoes
chili pepper
3 tablespoons of olive oil
1 teaspoon of thyme
salt and pepper
4 tablespoons of almond flakes
cress
150g of natural yoghurt
2 tablespoons of horseradish
8 tablespoons of cooked quinoa

Heat the oven up to 185C.
Cut the cauliflower into smaller pieces. Cut the radishes in half. Peel the carrots and cut them into 1-cm pieces. Put the vegetables into a bowl, add the olive oil, thyme, chopped chili pepper, spice them up with salt and pepper and stir thoroughly. Put the vegetables into a casserole dish and bake for 20 minutes. Add the cherry tomatoes and bake for 5-7 minutes. Mix the natural yoghurt with the horseradish and spice it up with salt and pepper. Arrange the vegetables on a plate and add the quinoa. Sprinkle with the roasted almond flakes and cress.

Enjoy your meal!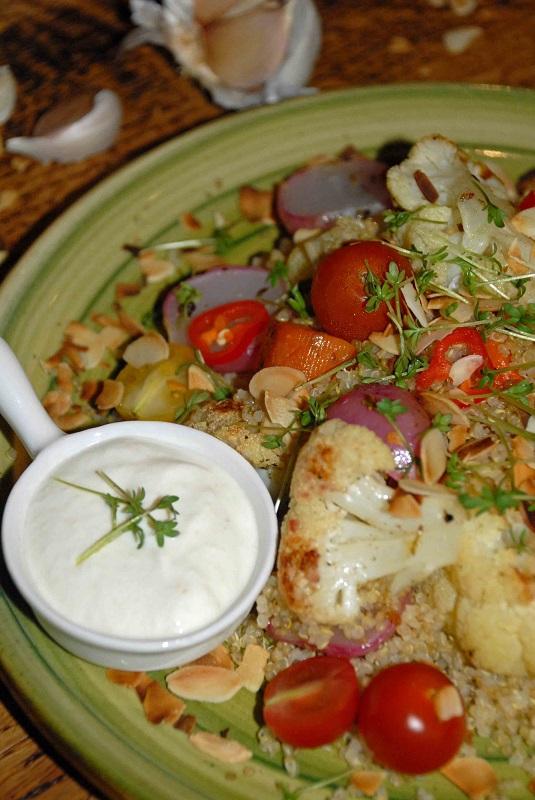 Try also:
A dinner salad with penne and snap peas
Baked radishes – an unusually yummy snack
Easy Simple salad with roast carrots