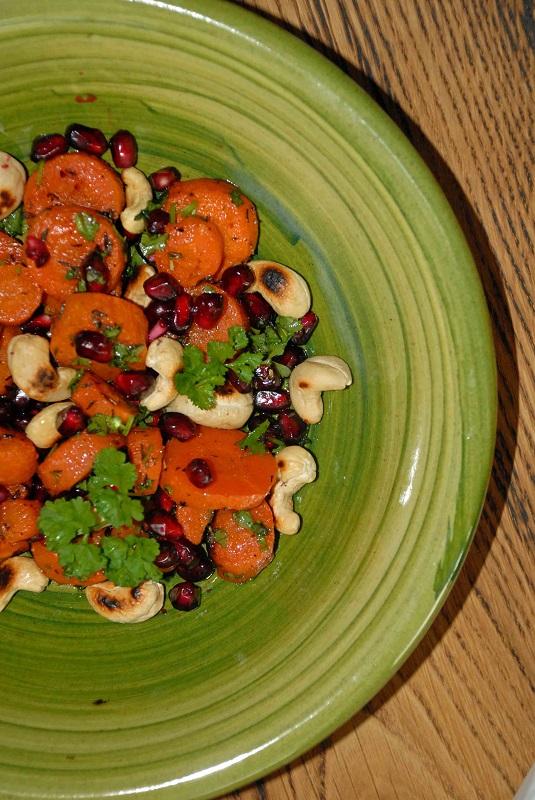 A few weeks ago I appreciated the sophisticated taste of salad with the absolute minimum of ingredients. Roast radishes with a small amount of seasoning, roast almond flakes and parsley have been a hit in our home. I prepare it often for a snack or light supper. It doesn't matter which season it is. You can buy good quality radishes all year round.

Today I would like to share the recipe for roast carrots. In salads which I like there should be something soft, crunchy, sweet, spicy and slightly sour. Salad with roast carrot is exactly so. Carrots, pomegranate, chili pepper and roast cashew nuts are an excellent combination.

Ingredients (for 2 people)
6 carrots
pomegranate
half a chili pepper
1 clove of garlic
3 tablespoons of chopped parsley
a fistful of cashew nuts
1 teaspoon of cumin
1 teaspoon of thyme
4 tablespoons of olive oil
salt
sauce:
2 tablespoons of maple syrup
2 tablespoons of lemon juice
2 tablespoons of olive oil

Heat the oven up to 180C.
Peel the carrots and cut them into thick slices. Mix the olive oil with the crushed garlic, cumin, thyme and a pinch of salt. Put the carrots into a bowl, add the sauce and mix it in. Put the carrots on a baking sheet and bake for 30-40 minutes. Roast the cashew nuts in a dry pan. Mix the ingredients of the sauce together. Mix the carrots with the nuts, pomegranate and parsley. Sprinkle with the sauce.

Enjoy your meal!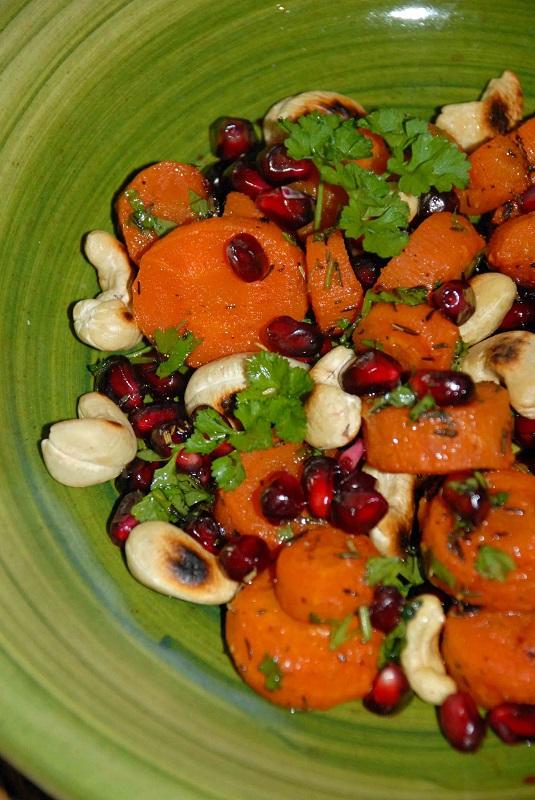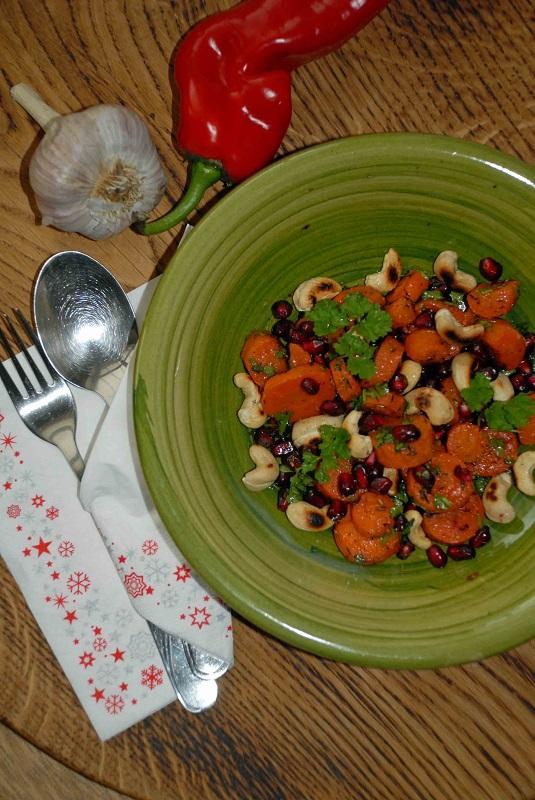 Try also:
Baked radishes – an unusually yummy snack
Two-piece salad with salmon, beetroot and avocado
Colourful salad with green beans, raspberries and feta cheese