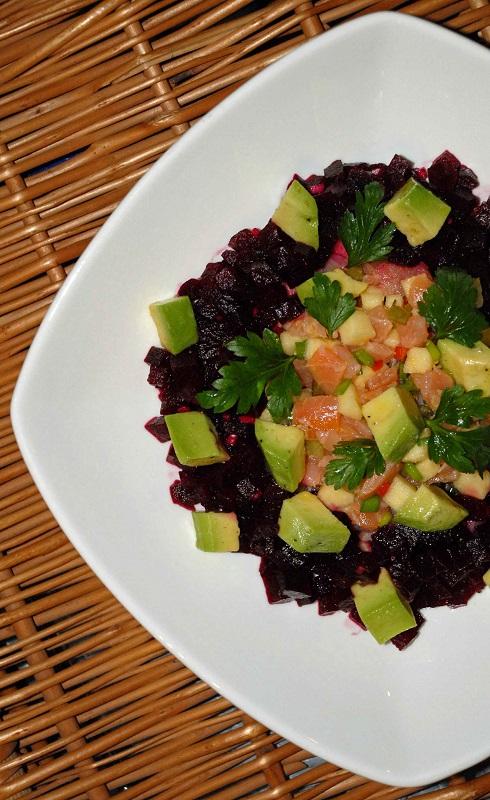 Today I would like to share with you the recipe for a salad which will be excellent for Christmas Eve dinner and for an elegant New Year's Eve party. This two-piece salad will be a decoration for every festival table. The part with salmon, apple, dill pickle and chili pepper is crunchy and fresh and slightly sour, and the second part with beetroot and avocado is nicely creamy and sweet. Both parts complement one another and make a yummy whole.

Ingredients
part with salmon
200g of smoked salmon
half an apple
2 pickled dills
half a chili pepper
3 tablespoons of chives
juice and the peel from half a lemon
1 tablespoon of olive oil
salt and pepper
part with beetroot
2 baked beetroots
1 clove of garlic
juice from half a lemon
1 tablespoon of honey
half an avocado
salt and pepper

Cube the salmon, apple and pickled dill and mix them together. Add the minced chives and chili pepper. Spice it up with the olive oil, lemon juice and peel, and salt and pepper. Stir and leave in the fridge to cool down. Cube the baked beetroot. Mince the garlic. Mix them together. Spice it up with salt, pepper, lemon juice and honey. Stir and leave in the fridge to cool down. Arrange the two parts of the salad separately on a plate. Decorate with the parsley and avocado pieces.

Enjoy your meal!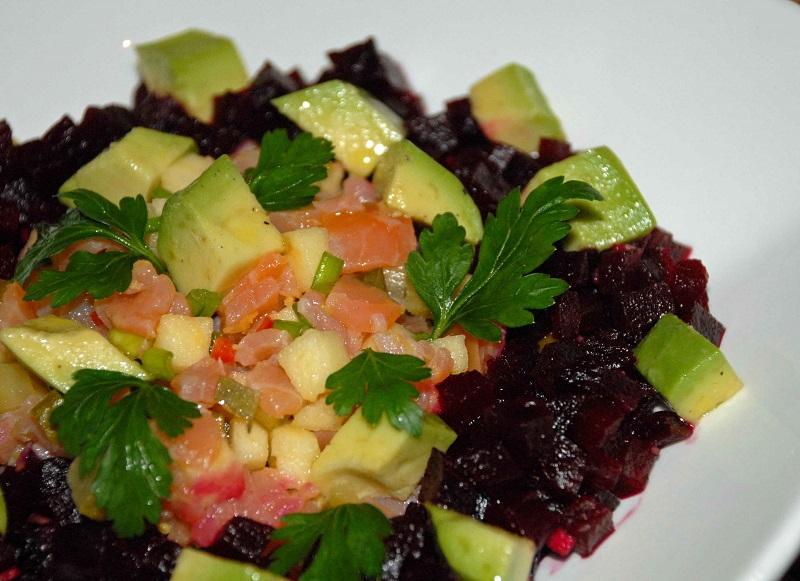 Try also
Salad with roasted beetroots and goat cheese.
Herring and beetroot – an excellent couple
Tasty needn't be complicated.