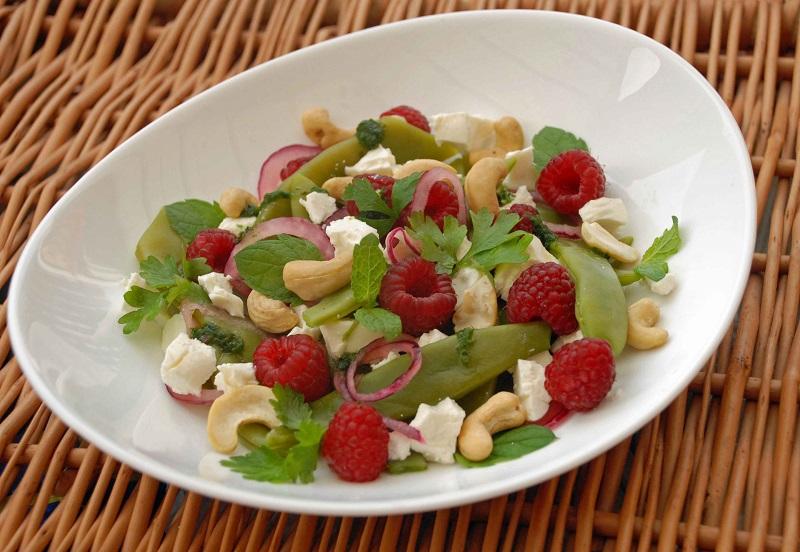 Sometimes in salads it's a case of the fewer ingredients the better. Today I would like to share with you the recipe for a grand, simple and colourful salad. The main ingredient is green beans. You can use ordinary green beans. Because of the fact that my husband did the shopping, I had to use 'mammoth' green beans. In fact the only difference is the width of the pods. Green beans are a rich source of folic acid and fibre. They are light and have a low glycaemic index, so they are recommended for people suffering from diabetes. Nuts are an interesting ingredient of this salad – use your favourite nuts. The second ingredients is a red onion. Pickle it in lemon juice and maple syrup. You can use the pickle as an ingredient of the sauce for the salad.

Ingredients
0.5 kg of green beans
100g of raspberries
100g of feta cheese
1 small red onion
4 tablespoons of lemon juice
3 tablespoons of maple syrup
2 tablespoons of olive oil
a fistful of cashew nuts
parsley and peppermint leaves

Slice the red onion. Mix the lemon juice and maple syrup and add them to the onion. Mix them in and leave for 15 minutes. Boil the green beans al dente. Crumble the feta cheese into smaller pieces. Arrange the green beans, feta cheese, raspberries, onion and cashew nuts on a plate. Mix the pickle with the olive oil and sprinkle the salad with it. Decorate with the peppermint and parsley leaves.

Enjoy your meal!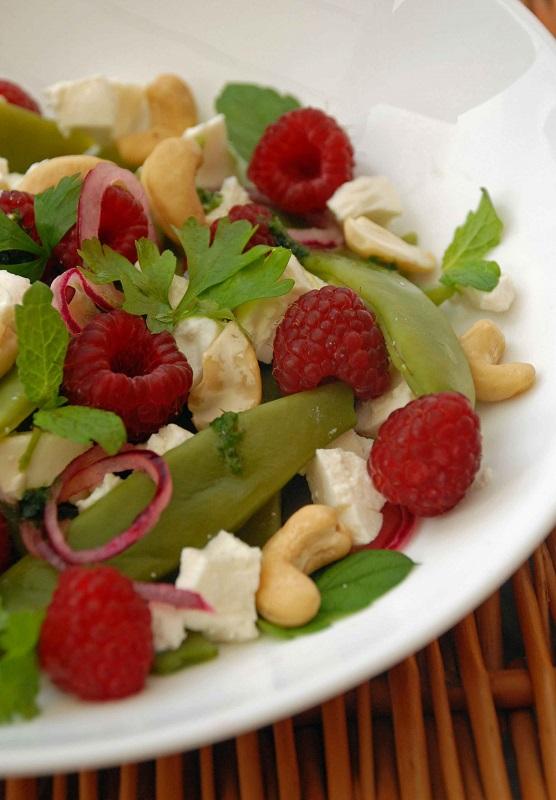 Try also:
Salad with green beans and grilled peach
Salad with French beans and smoked trout
Memories from holidays – salads with figs