The original recipe for white gazpacho, also known as gazpacho blanco or ajo blanco, comes from ancient Rome. Today it is incredibly popular in Andalucia and Estremadura. The ingredients for it are not expensive and are generally available. You only need almonds, white bread, garlic and olive oil. Ajo blanco is usually served with green grapes or melon balls, but despite this it isn't a sweet dish. Even though the ingredients are associated with hot summer days, I recommend gazpacho blanco as a snack before your main dish or light dinner. This original dish looks amazing and it tastes perfect. Try it yourself.

Ingredients (for 2 people):
50g of white bread
2 cloves of garlic
50g of blanched almonds
500ml of water
1 tablespoon of olive oil
1 teaspoon of lemon juice
salt
melon

Cut the crusts from the bread slices. Put all the ingredients (except the salt and melon) into a bowl and blend them thoroughly. Spice it up with salt. Put the cold soup into small bowls. Serve the soup cold. Add the pieces of melon before serving.

Enjoy your meal!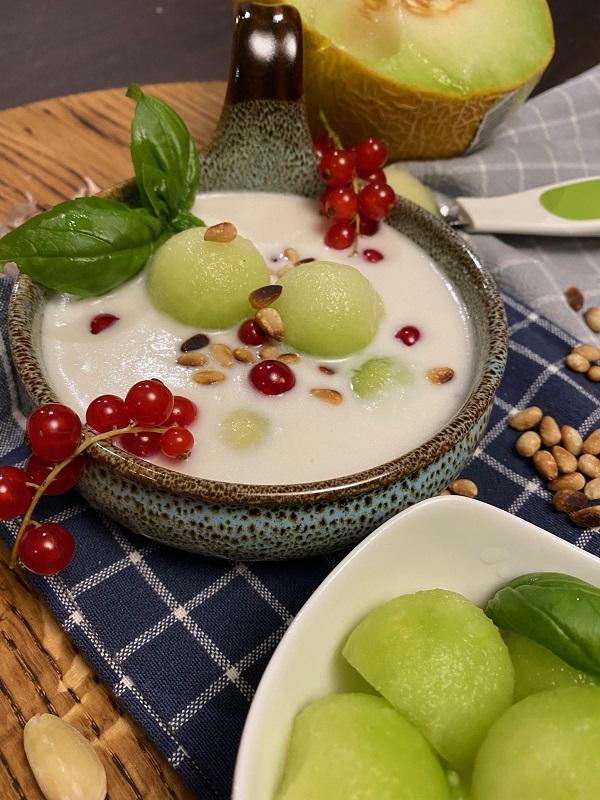 Try also:
Cold cucumber soup
Cold soup with avocado and lettuce
Gazpacho – Spanish cold soup