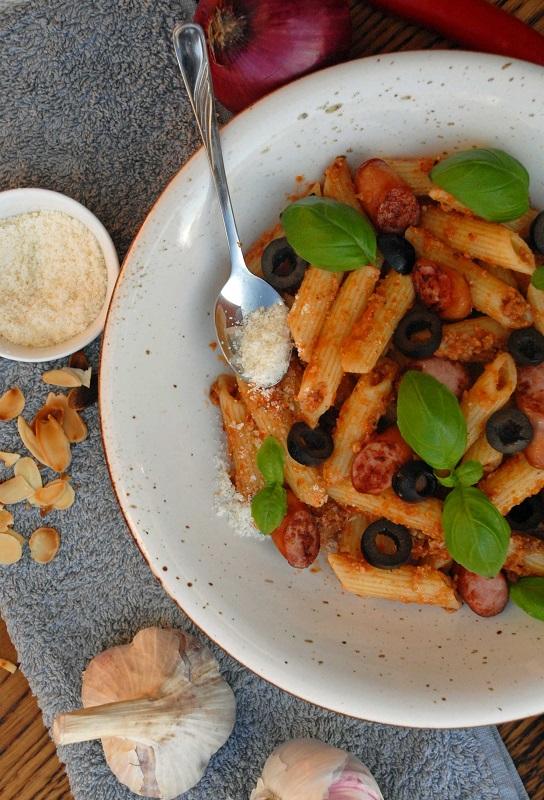 My children don't like dried tomatoes, so this swift lunch was only for me. Spicy red pesto with dried tomatoes, roasted cashew nuts and parmesan was excellent. My children didn't even know what a yummy dish they refused. If I have to choose which pesto I like most, I can't do it. I like green pesto with basil, and red pesto with dried tomatoes. Both of them are delicious. What kind of pesto do you like?

Ingredients (for 2 people)
10 dried tomatoes in olive oil
100ml of olive oil
A fistful of roasted cashew nuts
4 tablespoons of parmesan
1 clove of garlic
1 small chili pepper
150g of penne
2 sausages
10 black olives

Blend the dried tomatoes, garlic, olive oil, chili pepper, roasted cashew nuts and 3 tablespoons of parmesan. Slice the sausages and fry them until they are golden. Boil the penne al dente. Mix the penne with the pesto. Add the sausage slices and olives. Serve at once with the rest of the parmesan.

Enjoy your meal!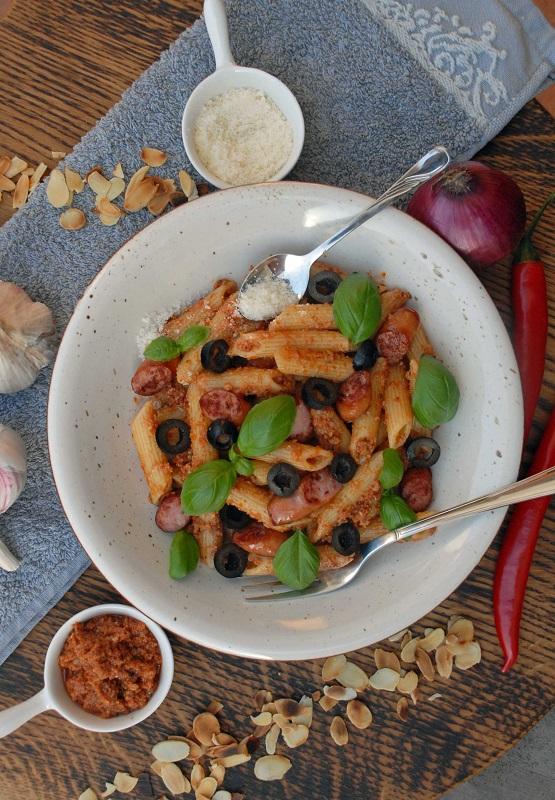 Try also:
Post-Christmas recovery time, i.e. wholemeal pasta with spinach and mozzarella cheese
Idea for a swift dinner on a hot day –pasta with homemade basil pesto
Wholemeal pasta with chanterelles and courgette