Until now I have used avocado to prepare salads and pastes, that is, dishes cold served. Lack of ideas for a quick lunch caused me to invent a new, incredibly delicious dish. I prepared a paste from avocado and feta cheese, which I treated like pesto, and I mixed it with pasta. I also added unsalted pistachios, black olives and different coloured cherry tomatoes. It all was so tasty that only my common sense stopped me from eating another portion. Unfortunately, the dish has a weakness. It can't be heated up, but it is possible to create quickly another serving.

Ingredients (for 2 people)
150g of penne
1 big avocado
1 small clove of garlic
50g of feta cheese
3-4 tablespoons of water from boiling penne
black olives
coloured cherry tomatoes
unsalted pistachios
a couple of basil leaves
salt and pepper

Boil the penne al dente. Leave a bit of water for later. Blend the avocado, feta cheese, 2-3 basil leaves and the garlic. Spice it up with some pepper, mix it in and add enough water to make the proper thickness of the sauce. Mix the penne with the avocado sauce. Put it into some bowls. Add the black olives, cherry tomatoes, pistachios and the rest of the basil leaves. Serve at once.

Enjoy your meal!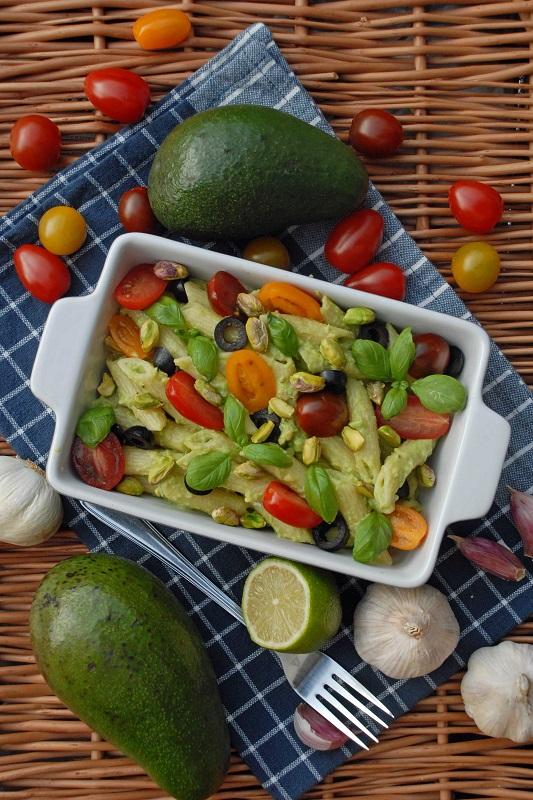 Try also:
Sicilian pasta with pistachios
Caprese salad for dinner
Spring on a plate with asparagus spears in lemon sauce