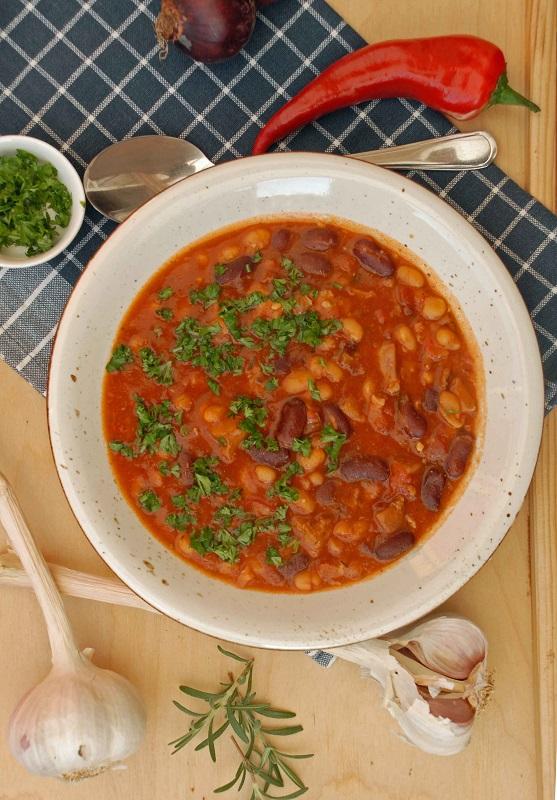 Today I would like to share with you the recipe for a thick and rich one-pot meal: Mexican soup with a large amount of beans and meat. It has a strong tomato flavour, pepper, a beautiful smell and is easy to reheat. There are as many recipes for Mexican soup as there are housewives. You may prepare this soup with or without meat, chorizo or bacon. You always you have to use beans (one or more kinds of them), spicy peppers (jalapeno is excellent), smoked paprika, onion and tomato. I add cubed turkey thigh and very fragrant smoked bacon to my soup. The dish was excellent and very spicy, to the delight of my daughter.

Ingredients (for 4 people)
600g of cubed turkey thigh
250g of smoked bacon
1 tin of red beans
1 tin of white beans
250ml of tomato passata
1 big onion
3 cloves of garlic
chilli pepper
2 teaspoons of sweet smoked paprika
2 twig of rosemary
2 twig of thyme
a pinch of ground cumin
a pinch of ground coriander
1l of beef stew
3 tablespoons of chopped parsley
salt and pepper

Dice the chili pepper, garlic and onion. Put the cubed bacon into a cold pan and fry slowly. Add the meat, garlic, onion and chili pepper when there is rendered fat in the pan and fry for a while. Add the sweet paprika, rosemary, thyme, cumin and coriander, and then pour in the beef stew and boil until the meat is soft. Add the passata, both kinds of beans and boil for a few minutes. Spice it up with salt and pepper. Serve hot with the chopped parsley.

Enjoy your meal!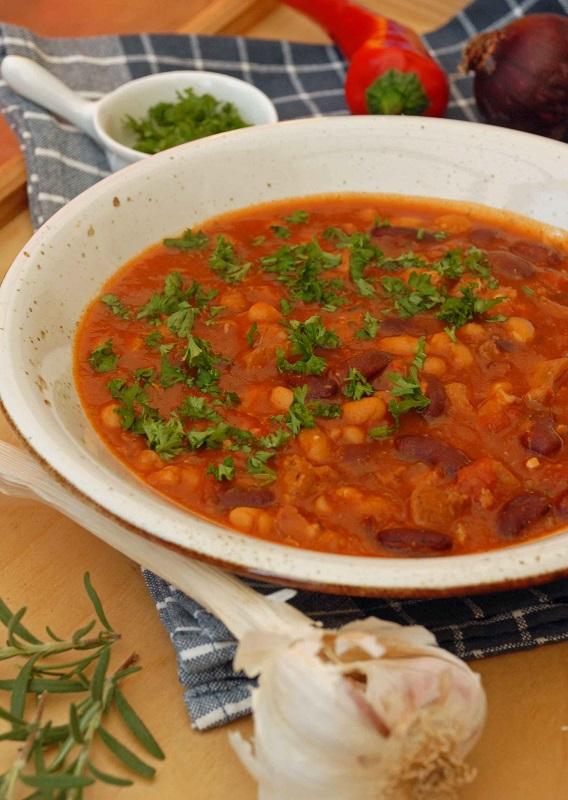 Try also:
Soup for a big appetite – with leek and mincemeat
Broth with ravioli – my son's favourite soup
Autumn soup with pearl barley and chickpeas