I like all noodles and dumplings. I serve them with meat dishes or as a dessert. You can add ingredients to every kind of pasta to make a perfect meal for all occasions. Until now I have made only potato dumplings.

Today I decided to prepare them with different ingredients. Firstly, because we ate up all the potatoes and then I forgot to buy more, and secondly I wanted to smuggle millet groats onto the children's menu. My children like all kinds of groats except millet groats. If I want my children to eat this kind of groats I prepare desserts, puddings or millet groats apple pie. This time I decided to prepare millet groats dumplings. Instead of traditional roast breadcrumbs, butter, sugar and cream, I served my dumplings with spicy tomato sauce. I have to say honestly, if immodestly, that the dish was really excellent.

The idea for this dish comes from the magazine "Moje gotowanie" ("My cooking").

Ingredients:
dumplings
100g of millet groats
4 tablespoons of flour
2 tablespoons of potato flour
a pinch of salt
sauce
1 tin of tomatoes
2 cloves of garlic
1 small onion
1 small chili pepper
1 tablespoon of butter
1 tablespoon of oregano
salt and pepper
additionally
100g of smoked bacon
basil leaves

Boil the millet groats in salty water. Drain them and blend thoroughly. Add both kinds of flour, spice it up with salt and knead into a smooth dough. Make a cylinder shape with the dough and cut into dumplings. Boil them in salty water for 3-4 minutes.
Melt the butter in a pan, add the diced onion, garlic and chili pepper. Fry for a while. Add the tomato, spice it up with salt, pepper and oregano. Boil for 20 minutes. Cube the bacon and fry it until it is crunchy. Serve the hot dumplings with the sauce and fried bacon. Decorate with the basil leaves.

Enjoy your meal!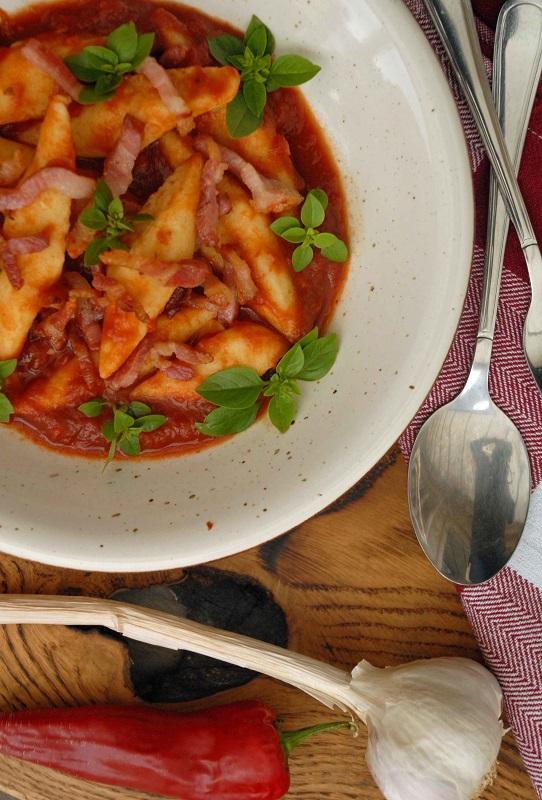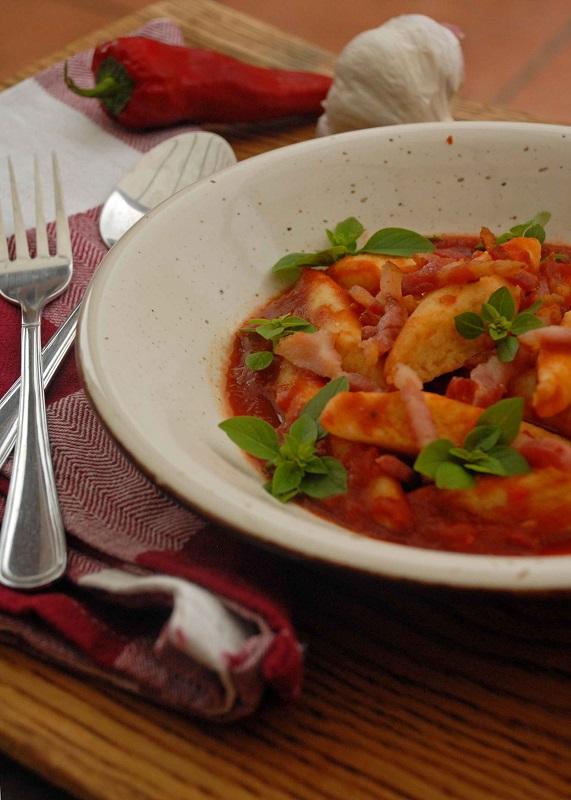 Try also:
A perfect idea for packed lunch – millet groats pancakes with apples.
A dinner full of memories – cheese dumplings with strawberries
Cutlets from millet groats with chickpeas