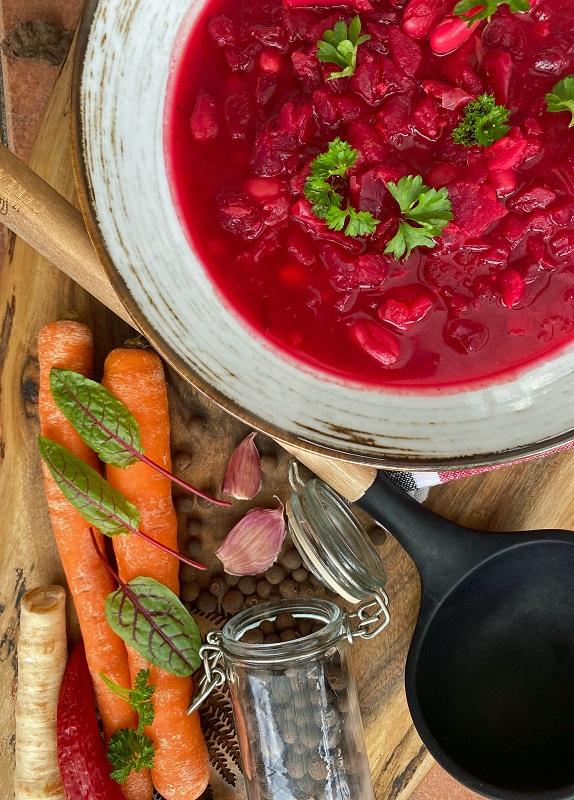 Today I would like to share with you the recipe for my favourite soup – Ukrainian borscht. My children like red borscht, but they don't like the Ukrainian version of this soup. It is soup in the "it is good but don't make it again" category

. So I prepare Ukrainian borscht when my family is away. Ukrainian borscht is soup prepared with beetroot, potatoes, onion, cabbage, mushrooms and beans. In Ukraine borscht with beans is called czernihowski borscht. You may serve it with sour cream or yoghurt. I like it without them but I add a lot of chopped parsley.

Ingredients (for 4 people):
2 big beetroots
1 carrot
1 parsley root
a piece of celery
1 stem of celery
4-5 potatoes
1 onion
3 cloves of garlic
200g cooked white beans
2 big leaves of savoy cabbage
3 tomatoes
1 tablespoon of tomato concentrate
2 tablespoons of lemon juice
4 dried mushrooms
2 bay leaves
4 allspices
1.5l of meat bouillon
1 tablespoon of butter
salt and pepper
sour cream
chopped dill or parsley

Peel the carrot, parsley root and celery and grate them. Chop the onion and two cloves of garlic. Cut the celery stem into 1-cm pieces. Peel the potatoes and beetroots and cube them. Blanch the tomatoes and peel them, remove the cores and dice them. Slice the savoy cabbage.
Melt half of the butter in a pan. Add the onion and garlic and fry for a while, add the beetroots, fry for 2-3 minutes and take them out of the pan. Melt the rest of the butter in a pot, add the celery, celery root, carrot and parsley root and fry for a while. Add the dried mushrooms, bay leaves, allspices and bouillon and boil for 10 minutes. Add the beetroots with onion and garlic, the savoy cabbage and boil for 10 minutes. Add the tomatoes, tomato concentrate, beans and lemon juice and boil for 2-3 minutes. Turn off the heat. Spice it up with salt and pepper. Add the crushed garlic and mix it in. Decorate with sour cream and sprinkle with chopped dill or parsley before serving.

Enjoy your meal!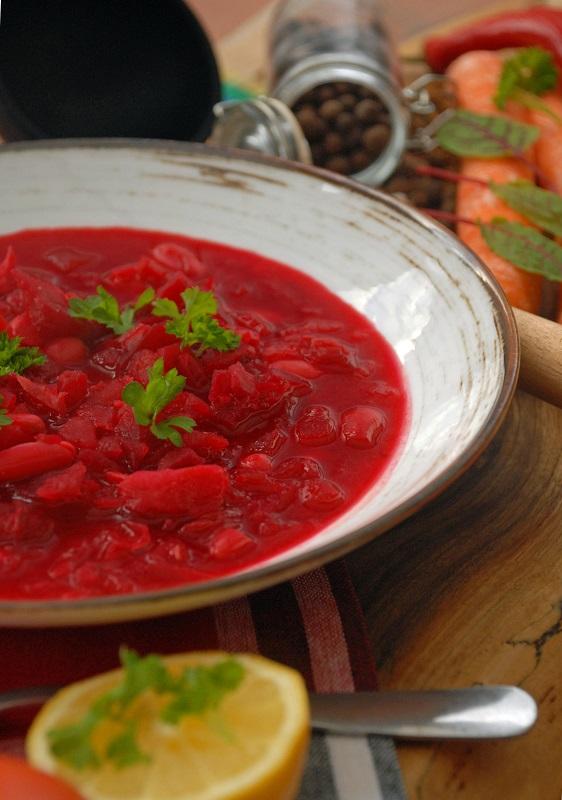 Try also:
Cream of beetroot soup
My Easter borscht
Coconut beetroot soup with peppermint