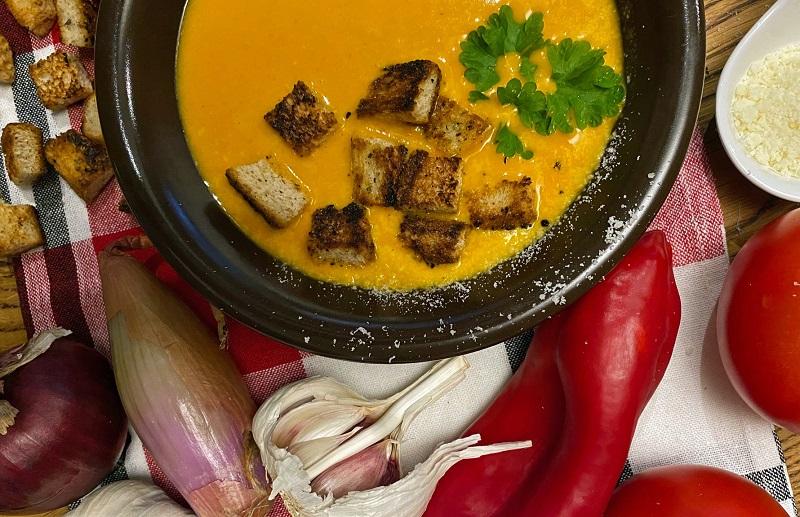 The first day of spring this year wasn't a spring day at all. Freezing wind, rain followed by snow, and mud underfoot. You don't want to kick the proverbial dog out of the house. Unfortunately, my real four-legged friend needed to go for walks and at least one very long one. After coming back home the only thing I dreamed about was a bowl full of hot aromatic soup. Fortunately, the preparation of pepper soup with parmesan is very quick and you can relish the warmth spreading inside your body. Whoever invented soup was a very wise man.

The recipe for this soup comes from the TM cook book, but you can easily prepare it in a typical pot. Serve it with herby toasts. For us it tastes better this way.

Ingredients:
150g of yellow pepper
150g of red pepper
1 shallot
100g of grated parmesan
1 tablespoon of butter
1 teaspoon of tomato concentrate
500ml of vegetable bouillon
2 teaspoons of sweet smoked paprika
1 teaspoon of spicy paprika
50ml of 30% sweet cream

Melt the butter in a pan and fry the chopped shallot. Add both kinds of pepper without the cores and cut into small pieces. Fry for 2-3 minutes. Add the bouillon, sweet and spicy paprika, tomato concentrate and boil for 10 minutes. Add the parmesan and sweet cream and boil for 2 minutes on a low heat. Blend the soup thoroughly. Serve with croutons.

Enjoy your meal!

Try also:
Cream of sweet potatoes with bacon and goat cheese.
Spicy pumpkin-tomato soup
Strong and warming – pepper-tomato soup