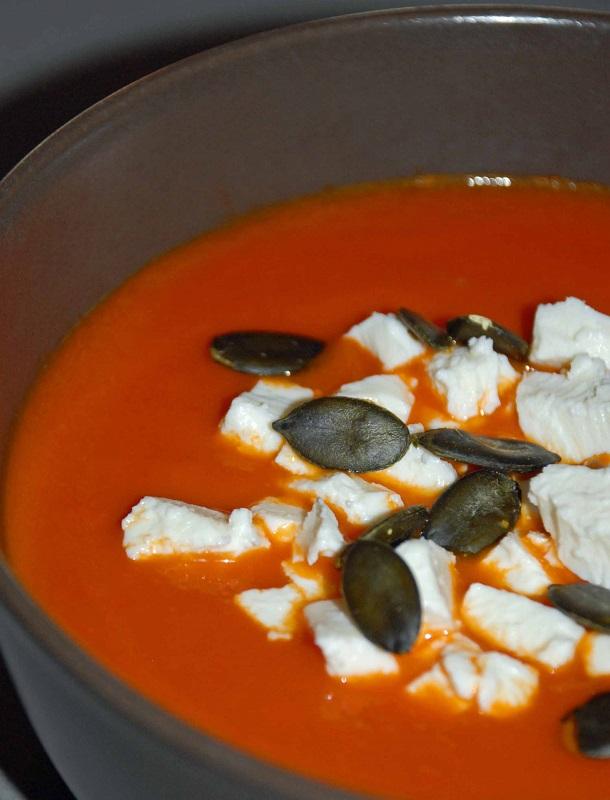 Recently, celebrating Grandpa Day, we visited a restaurant where I ate fantastic cream soup with pepper and tomatoes. It was strong, warming and very tasty.

I decided to prepare my version of this dish. If you have a bit more free time, bake thoroughly the peppers and fresh tomatoes in the oven and peel them. In the less time-consuming version, fry the vegetables in a pan and stew until they are soft. This soup is different but equally yummy. Serve it with your favourite fixings. Today I chose feta cheese and pumpkin seeds. I think it should be great with goat's cheese and parsley or garlic croutons.

Ingredients (for 4 people):
2 sweet red peppers
2 tins of tomatoes
2 cloves of garlic
1 onion
1 tablespoon of butter
1 small chili pepper
1 teaspoon of sweet pepper powder
salt and pepper
feta cheese
pumpkin seeds

Slice the onion, dice the garlic and chili pepper, cut the red sweet pepper into smaller pieces. Fry the onion, garlic and chili pepper. Add the red pepper and fry for 5 minutes, stirring from time to time. Add the tomatoes, spice them up with sweet pepper powder, salt and pepper. Stew for 30 minutes. If necessary, fortify with water or vegetable stock. Blend the soup thoroughly. Serve hot with your favourite fixings.

Enjoy your meal!

Try also:
Cream of beetroot soup
Autumn soup with pearl barley and chickpeas
Hot, stodgy, delicious lentil soup