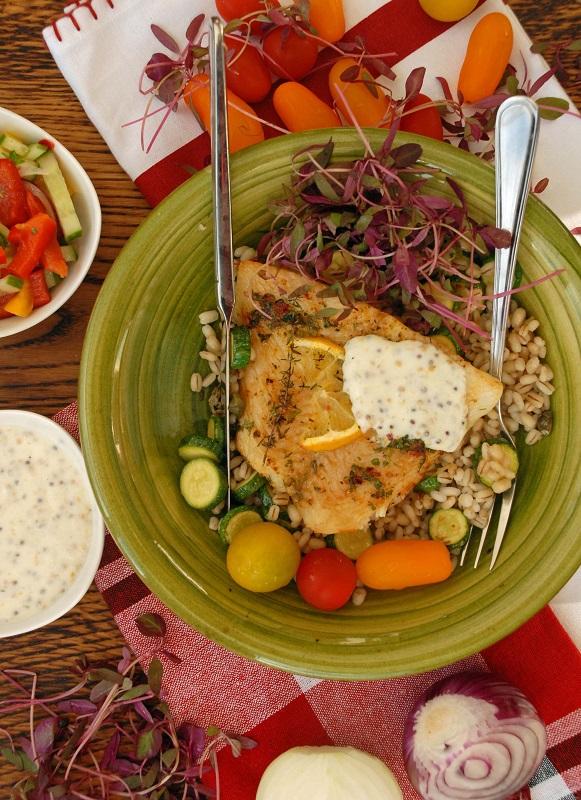 Today I would like to share with you the recipe for a light and healthy dinner. I served rainbow trout with mustard sauce and pot barley with courgette and fresh salad. I like these kinds of dishes. They are easy, they don't need a lot of work and each time the result is amazing. You can make a hot white sauce, but this time I decided to make a cold sauce with natural yoghurt and French mustard. If you make a different sauce – with capers, lemon or garlic – you will end up with different, excellent dishes.

Ingredients (for 2 people)
300g rainbow trout
2 twigs of thyme
2 slices of lemon
1 clove of garlic
1 tablespoon of clarified butter
100g of pot barley
4 small courgettes
1 shallot
1 clove of garlic
1 tablespoon of oil
salt and pepper
sauce
100g of natural yoghurt
½ crushed clove of garlic
1 teaspoon of spicy mustard
1 teaspoon of mild mustard
2 teaspoons of French mustard
1 teaspoon of maple syrup
salt and pepper

Clean the trout and spice it up with some pepper, thyme, salt and crushed garlic. Put a slice of lemon on each piece of trout. Leave in the fridge for one hour. Melt the butter in a pan and fry the fish.
Mix all the ingredients of the sauce. Spice it up with salt and pepper. Leave it in the fridge until the fish is ready.
Boil the pot barley in salty water. Dice the shallot and garlic and fry them in the oil. Slice the small courgettes and add them to the pan. Fry for a while. Add the pot barley and mix it in. Spice it up with salt and pepper.
Arrange the pot barley with the courgettes and the trout on a plate. Sprinkle with a bit of the sauce. Serve the rest of the sauce in a separate bowl.

Enjoy your meal!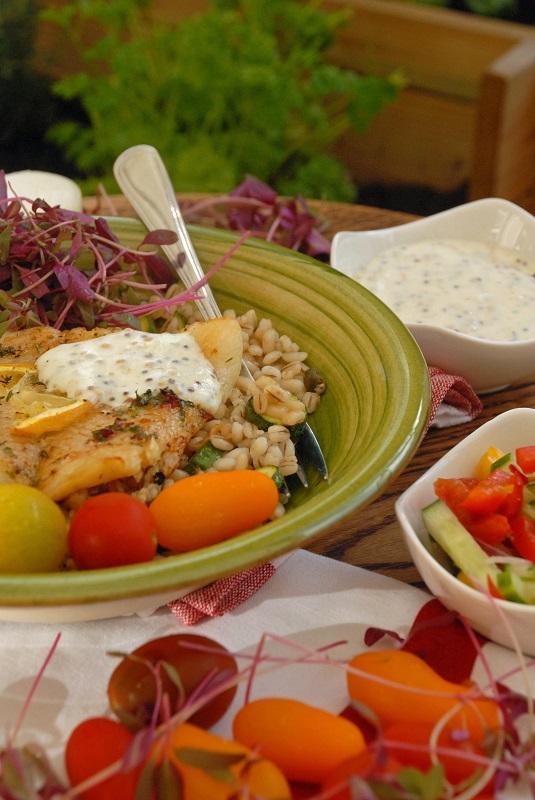 Try also:
Salmon fried in water
Tagiatelle with smoked salmon and asparagus spears
Salmon with asparagus spears, new potatoes and lemon sauce