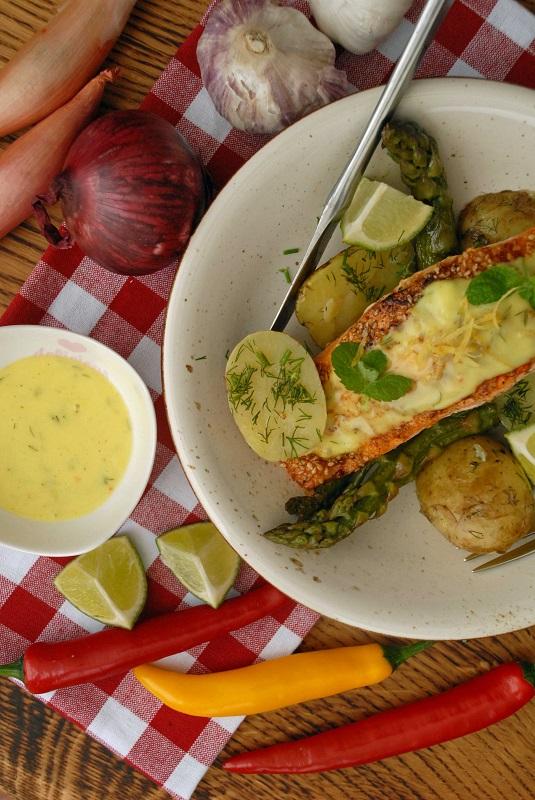 Lately I asked my children which fish dish they like the most. In first place outside the home is always fried zander in Pomorski Kamień. At home in first place was fried salmon with lemon sauce. Depending on the season I serve it with potatoes, purée, rice, cauliflower or broccoli. Usually I serve it with fresh salad. Cooked vegetables are a good way to eat the rest of the lemon sauce. Today I chose new potatoes and steamed asparagus spears. The potatoes were of course cooked in their skins and served with butter and dill. I don't marvel at my children's choice. I also love this dish.

Ingredients (for 2 people)
300g of salmon
1 teaspoon of lemon pepper
2 twigs of thyme
lemon zest from one lemon
1 tablespoon of clarified butter
1 bunch of green asparagus spears
4-6 new potatoes
1 teaspoon of butter
2 teaspoons of chopped dill
salt
sauce
3 tablespoons of butter
2 tablespoons of flour
200ml of bouillon
50ml of 30% sweet cream
3 tablespoons of lemon juice
1 tablespoon of lemon zest
1 tablespoon of chopped dill
a pinch of curcuma

Clean the salmon, spice it up with some lemon pepper, lemon zest, thyme and salt. Leave in the fridge for one hour. Melt the butter in a pan and fry the salmon. Boil the new potatoes (don't peel them) in salty water. Put the butter and chopped dill on the potatoes and stir gently. Cook the asparagus spears by steaming or frying them until they are soft but still crunchy.
Prepare the sauce. Melt the butter in a pan with a heavy bottom. Add the flour and boil for a while, stirring intensively. Add the bouillon, sweet cream and boil until the sauce is thick. Add the lemon juice, chopped dill, curcuma, half of the lemon zest and mix them in. Add salt and pepper if necessary.
Arrange the potatoes and asparagus spears and the salmon on a plate. Sprinkle with a bit of sauce. Serve the rest of the sauce in a separate bowl.

Enjoy your meal!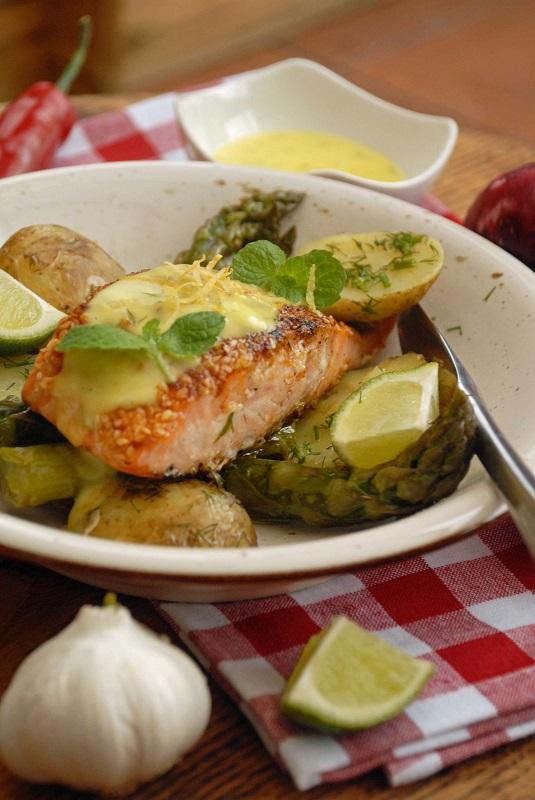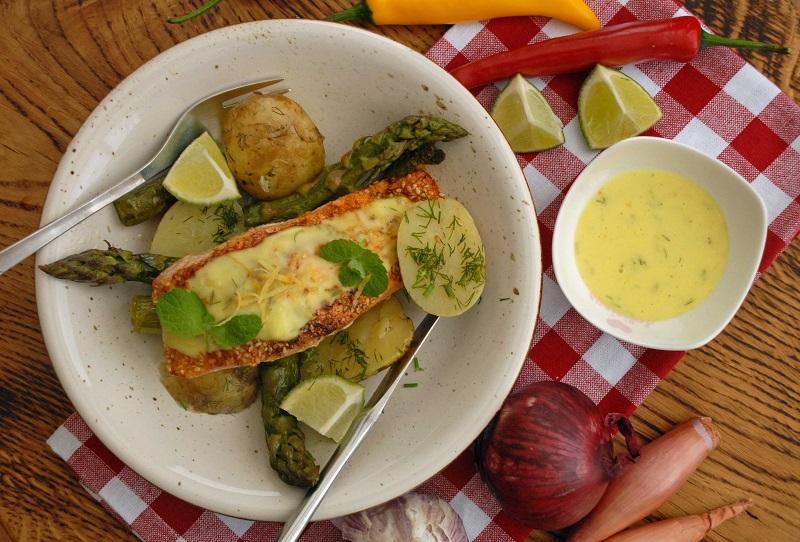 Try also:
Lemon-peppermint risotto with salmon
Phenomenal salmon with currant sauce
Red snapper from the oven – a light and elegant dinner in half an hour