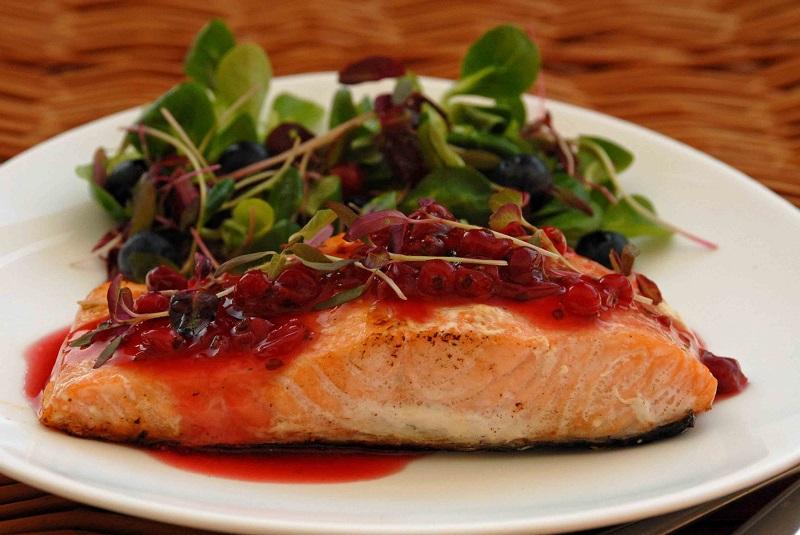 A few years ago we did a lot of shopping on a Friday afternoon. The traditional supper on this day was aromatic fried salmon. I have a fondness for this dish, but now I more often roast or steam salmon. I serve this fish with roast vegetables and sauerkraut salad with fresh vegetables.

Today I would like to share with you the recipe for a new approach to this dish. The salmon is fried but in a small amount of oil, and I serve it with salad with radish micro leaves. This was the first time I had eaten the small, beautiful radish micro leaves. They looked amazing; they are green-purple and very ornamental. They are inconspicuous but quite piquant, so I served them with corn salad and fruit. The fish was excellent with a bracing currant sauce with orange and rosemary. My son said "Yummy, for my belly".

Ingredients:
4 pieces of salmon (with the skin)
juice of two oranges
6 tablespoons of olive oil
2 cloves of garlic
2 tablespoons of oil
2 twigs of rosemary
2 tablespoons of maple syrup
200g of red currant
100g of blueberries
3 fistfuls of corn salad
2 fistfuls of radish micro leaves
salt and pepper

Clean the salmon, spice them up with salt and pepper. Mix the juice of half an orange with two tablespoons of olive oil. Add the sauce, one twig of rosemary and the sliced cloves of garlic to the salmon. Mix them in and leave in the fridge for 2-3 hours.
Wash the currants and remove the shanks. Leave 1/3 of the fruit for the salad. From the rest, set aside 2 tablespoons. Put the rest of the currants into a pan, add the juice of one orange, a twig of the rosemary and the maple syrup. Boil until the fruit is soft and the sauce is thicker. Add the 2 tablespoons of currants, boil them and turn off the heat.
Clean the corn salad and radish micro leaves. Mix them in with the currants and blueberries. Mix the rest of the olive oil with the rest of the orange juice and 1 tablespoon of maple syrup. Sprinkle the salad with this sauce just before serving.
From the baking paper cut out pieces which are a bit bigger than the pieces of salmon. Smooth a pan with oil. Put the baking paper into the heated pan and the salmon pieces on top of them (the skin facing down, without the garlic and rosemary). Fry for a few minutes on a low heat. Turn them over and fry until the salmon is slightly brown. Arrange the salad on a plate and sprinkle it with the sauce. Put the salmon aside and sprinkle with the currant sauce. Serve at once.

Enjoy your meal!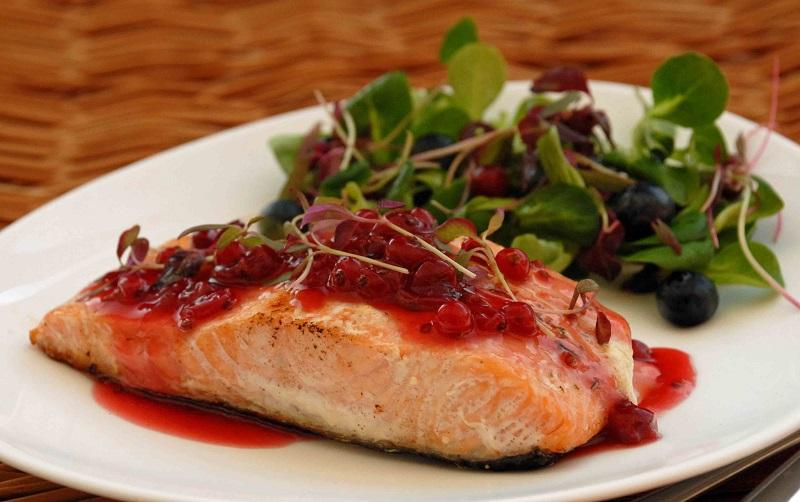 Try also:
Baked salmon with vegetables in parchment paper
Red snapper from the oven – a light and elegant dinner in half an hour
Salsa for salmon, or the devil is in the detail