We like fish. In a restaurant when we can choose the dishes, we often order fish. We choose them not only for their goodness but also for the gustatory value. The availability of salmon means that we eat it very often. Luckily it is my children's favourite fish too.

Today I would like to share with you the recipe for an easy fish dish which both looks and tastes great. The simplicity of serving is an advantage of this dish. You needn't bother to arrange the dish on the plate. Quite the opposite – it's enough to take the dish from the oven, tear open the parchment paper and then you can eat.

Ingredients (for 4 people)
800g of salmon without the skin
2 bright leaves of savoy cabbage
16 thin asparagus spears
8 small potatoes
2 carrots
2 cloves of garlic
1 onion
4 slices of lemon
a few leaves of parsley
a few cherry tomatoes
4 teaspoons of butter
thyme, rosemary
salt and pepper

Heat the oven up to 180C.
Cut the salmon into four pieces, spice them up with salt, pepper and thyme.
Wash the potatoes and boil for 15 minutes. Drain them and cut them into quarters. Peel the carrots, garlic and onion and cut them into quarters.
Prepare four pieces of parchment paper. Put the halved savoy cabbage leaves, pieces of salmon, and the vegetables: asparagus spears, potatoes, carrots and onion onto them. Add salt, pepper and rosemary. Put the teaspoons of butter on top. Fold the parchment paper and wrap the edges to make airtight envelopes. Put them on a baking sheet and bake for 30-35 minutes.
Take the envelopes out from the oven, put them onto some plates, tear open the parchment paper, sprinkle with the lemon juice and decorate with the tomatoes and parsley leaves. Serve at once.

Enjoy your meal!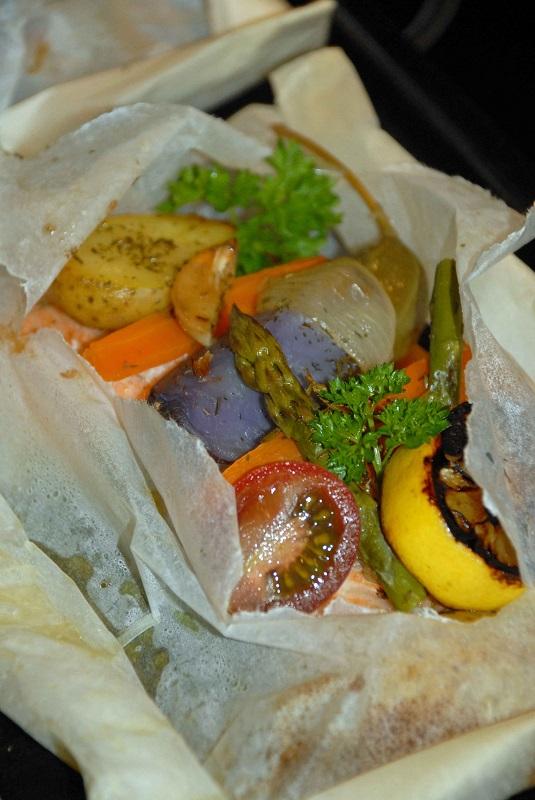 Try also
The right idea is a key to success
Red snapper from the oven – a light and elegant dinner in half an hour
Baked sea bass with herbs