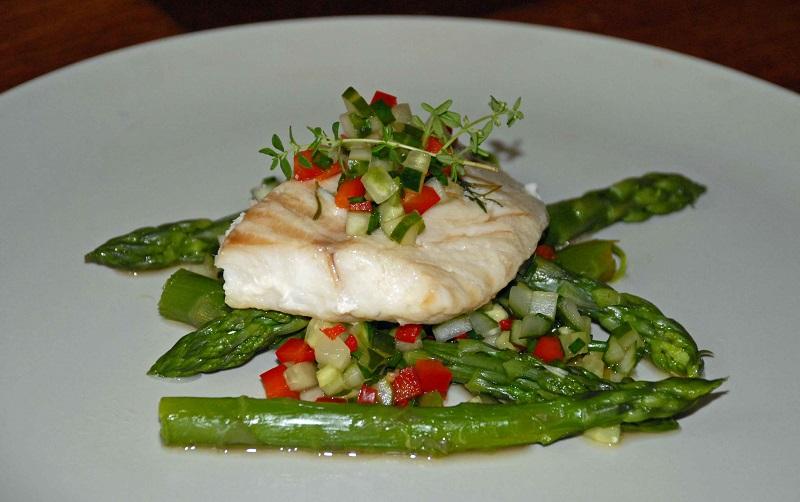 Everybody in my home likes fish. I would prepare it more often, but it is not easy to find a fishmonger I can trust, where I may buy tasty and fresh fish. Today we tested one of the recommended small fishmongers. In this modest housing estate shop you can buy products from the river, lake and seas and also others from ecological sources. We were not disappointed and we will visit this shop often.

Today we had fresh fillets of red snapper on our table. Raw red snapper is light red, but after baking the meat is white and mild. I served it with green asparagus spears and an interesting tasting salsa with low-salt cucumbers. A big asset of this dish is its flavour, spectacular looks and that it only took 30 minutes to prepare. I like this kind of dish!

Ingredients (for 4 people)
800g of red snapper fillets
6 sprigs of thyme
3 sprigs of rosemary
4 cloves of garlic (unpeeled)
salt, white pepper
salsa
4 low-salt cucumbers
half a red pepper
half a chili pepper
2 cloves of garlic (peeled)
4 tablespoons of minced chives
2 teaspoons of honey
the juice from half a lemon
other ingredients:
2 bunches of asparagus spears

Firstly, prepare the salsa. Dice the low-salt cucumber and red pepper. Chop the garlic and chili pepper. Mix in the cucumbers, two kinds of pepper, garlic and chives. Spice it up with the lemon juice and honey. Leave in the fridge for 20 minutes.
Heat the oven up to 180C. Cover a casserole dish with some baking paper. Sprinkle it with some olive oil. Cut the fillets of fish into pieces (whatever size suits you) and spice them up with salt and white pepper. Put them and the rosemary, garlic and thyme on the baking paper. Bake for 20 minutes.
Wash the asparagus spears, remove the lignified parts and boil them al dente for 8-10 minutes in lightly salted water.
Arrange the asparagus spears, two tablespoons of salsa and the pieces of fish on a plate. Decorate with a bit of salsa and the thyme sprigs.

Enjoy your meal!

Try also:
Salmon fried in water
Baked sea bass with herbs
Fish in beer pie