The outright king of my summer kitchen is risotto. We love the creamy taste of the seeds of arborio rice. A few basic ingredients, a few additions and every time we have a new dish.

This popular dish comes from north Italy and always contains rice, shallots, butter, wine and bouillon. It is interesting that risotto is the first dish (primo piatto) served before the main dish, and it takes turns with soup and pasta. That is how it should be in an Italian restaurant, but in my home risotto has always been simply a yummy dinner.

This time I prepared lemon risotto with curcuma, peppermint and smoked salmon.

Ingredients (for two people)
150g of arborio rice
1 shallot
1l of vegetable bouillon
3 tablespoons of butter
100ml of dry white wine
a half teaspoon of curcuma
3 tablespoons of parmesan
2 tablespoons of lemon peel
3 tablespoons of lemon juice
150g of smoked salmon

Melt the butter in a saucepan with a heavy bottom and fry the rest of the onion in it. Add the rice and fry until the seeds are glazy. Pour in the wine and boil until the wine evaporates. Add half a glass of the bouillon and boil the rice. Wait until the rice soaks up the portion of the bouillon before you pour in the next one. Boil the risotto for 15-18 minutes, topping up with the bouillon. Turn off the heat, wait a while and add the rest of the butter, 2 tablespoons of the parmesan, the lemon juice and peel and mix it in. If necessary, spice up the risotto with salt and pepper. Sprinkle with the parmesan and decorate with peppermint leaves before serving.

Enjoy your meal!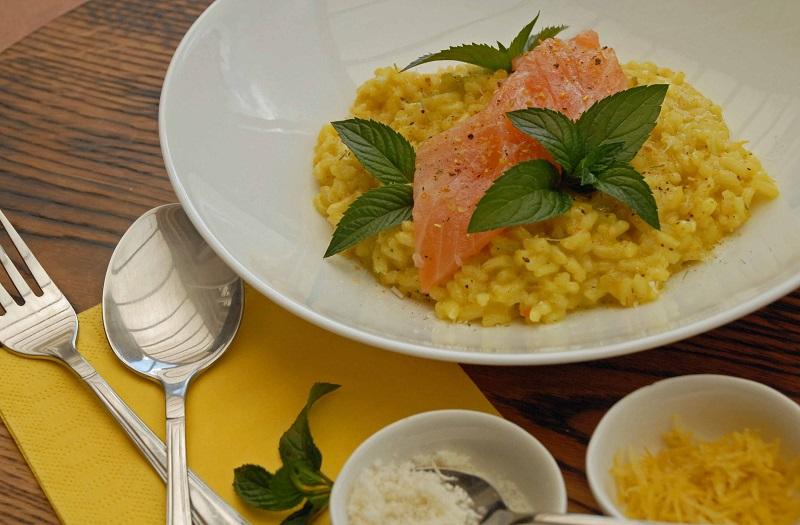 Try also:
My "pęczotto" with chanterelles
Risotto with white asparagus spears and saffron
Asparagus risotto – one serving is too little