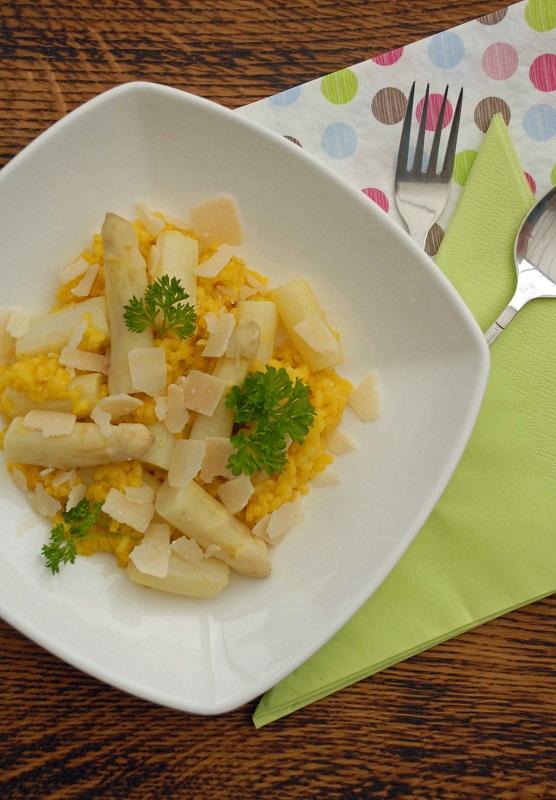 I bought the last bunch of asparagus spears of the season. I decided to prepare a smooth and fragrant risotto with them. To change my dish and make it more colourful, I added a bit of saffron.

Saffron is the most expensive seasoning. It makes the meal yellow and orange. Don't add too much of it or the dish will be bitter. Saffron is excellent with rice, vegetables and seafood, so it is often added to pilau, risotto and paella.

Ingredients (for 2 people):
150 g of rice arborio
a pinch of saffron
1l of asparagus bouillon
1 bunch of white asparagus spears
1 shallot
1 clove of garlic
150ml of dry white wine
3 tablespoons of butter
3 tablespoons of parmesan

Wash and peel the asparagus spears and cut them into 3 cm pieces (leave the heads to one side). Boil the rest of the pieces with the peel in salty water with 1 tablespoon of butter until the asparagus are soft but crunchy. Add the asparagus heads 2 minutes before the end of cooking. Drain the asparagus, remove the peel. Don't pour away the bouillon.
Melt one tablespoon of butter in a saucepan with a heavy bottom and fry the chopped shallot and garlic in it. Add the rice and saffron and fry until the seeds are glazy. Pour in the wine and boil until the wine evaporates. Add half a glass of the asparagus bouillon and boil the rice. Wait until the rice soaks up the portion of the bouillon before you pour in the next one. Boil the risotto for 15-18 minutes, topping up with the bouillon. Turn off the heat, wait a while and add the rest of the butter, 3 tablespoons of the parmesan, the asparagus and mix it in. If necessary, spice up the risotto with salt and pepper.

Enjoy your meal!

Try also:
Asparagus risotto – one serving is too little
Girly risotto with chard
Kaszotto with the asparagus spears and dried tomatoes