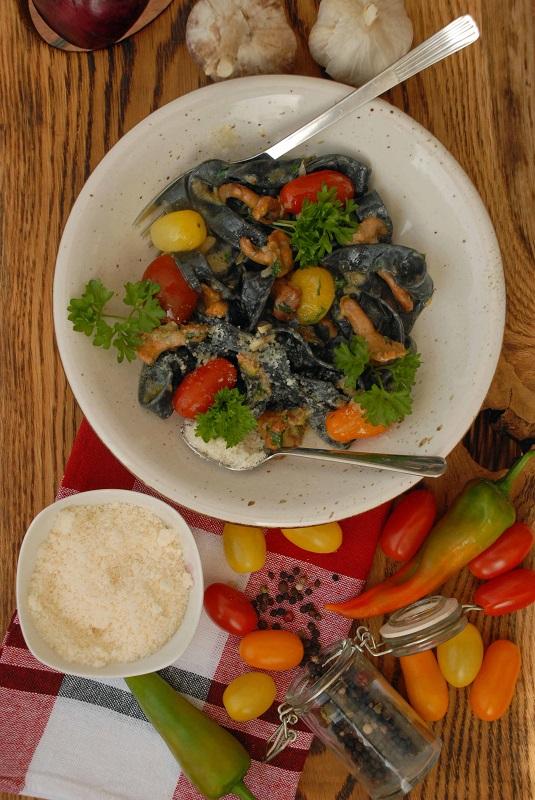 Many people limit the amount of meat they eat or remove it completely from their diet. More orthodox people don't eat animal products at all. My recent unexpected guests are from this group. The visit went on longer than I expected, so I had to make dinner. My husband always complains that I buy too much, but this time he really appreciated it when after 20 minutes we had a colourful, remarkable dish, and I managed to take part in the social meeting (we have an open kitchen) almost all the time. Black pappardelle were beautiful with small tomatoes and chanterelles sauce made from coconut milk. I added a lot of parsley from the balcony herbarium and... everybody was amazed. Maybe with the exception of my dog, who looked reproachfully when I cut up his beloved parsley. I have to quickly plant some more 


Ingredients (for 4 people)
600g of black pappardelle
250g of chanterelles
2 shallots
3 cloves of garlic
1 chili pepper
3 twigs of thyme
400ml of coconut milk
150g of cherry tomatoes
6 tablespoons of chopped parsley
2 tablespoons of parmesan (not for vegans)
2 tablespoons of sunflower oil
salt and pepper
Boil the pappardelle al dente.

Chop the shallots, garlic, and chili pepper. Heat the oil in a pan and fry the vegetables. Add the cleaned chanterelles and thyme and fry for 5-7 minutes. Add the coconut milk and boil for 10 minutes. Add the cherry tomatoes 2 minutes before you finish cooking. Turn off the heat and add 4 tablespoons of parsley. Mix them in. Add the pappardelle to the sauce and mix again. Sprinkle with the rest of the parsley (and the Parmesan if you are not a vegetarian) before serving.

Enjoy your meal!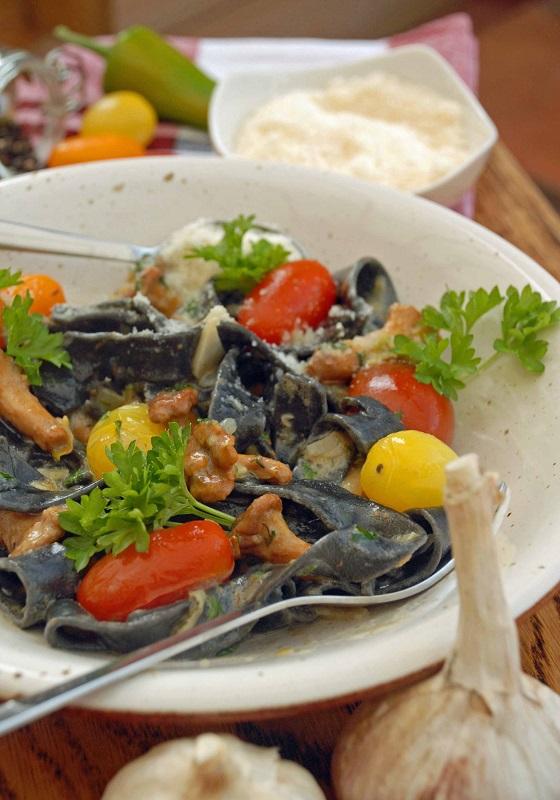 Try also:
Sicilian pasta with pistachios
Autumn penne with pumpkin
Wholemeal pasta with chanterelles and courgette