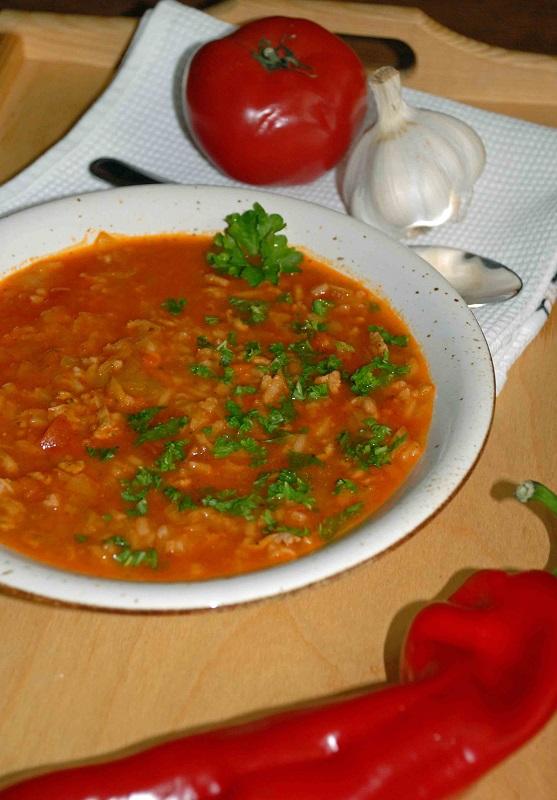 Do you like stuffed cabbages? We do. We have eaten cabbages with meat stuffing, both with and without rice, with groats and mushrooms, and also Ukrainian relish – stuffed cabbages with potatoes and mushroom sauce. We don't recommend the roasted stuffed cabbages. We prefer them stewed with tomato sauce.

When looking at www.gotujebolubie.pl I found a recipe for stuffed cabbage soup, and I knew that we would like it. The ingredients are almost the same as for stuffed cabbage and the preparation is less toilsome. It is enough to chop the ingredients and the soup cooks itself. It tastes better the next day, so I recommend preparing it a day before. Then you need to warm it up, add a lot of chopped parsley and yummy filling, and your one-pot dish is ready. Perfect for every housewife.

Ingredients:
half a small cabbage
400g of mincemeat
1 big carrot
1 big parsley root
a piece of celery root
a piece of leek
onion
2 cloves of garlic
chili pepper
500ml of tomato passata
1l of bouillon
100g of rice
2 bay leaves
2 allspices
3 peppers
2 tablespoons of oil
1 teaspoon of sweet paprika powder
salt and pepper

Peel the carrot, parsley root and celery root and grate them. Slice the onion, garlic, leek and chili pepper. Cube the cabbage. Heat the oil in a pan and then fry the onion, garlic and chili pepper in it. Add the carrot, parsley, celery and leek, mix them in and fry for 5 minutes. Add the mincemeat and fry until it isn't pink. Add the cabbage, tomato passata, sweet paprika, half of the bouillon, bay leaves, allspices, pepper and boil for 40 minutes. Add the rice, top up the bouillon and boil for 15-17 minutes. Spice it up with salt and pepper.

Enjoy your meal!

Try also:
Home-made sauerkraut soup with smoked bacon
Cream with red lentils and tomatoes
Something for warming up on a cold autumn afternoon – goulash soup with mincemeat