I like busy days. Even if I'm very tired, I feel that I use this time to the max. I'm glad especially when everything goes as planned and I manage to do everything. On such days it is worth having a few recipes for swift dishes to make a nice homemade lunch.

Pastas with homemade pesto or sauces are excellent for such situations. Most often I make my favourite green basil pesto or red pesto with dried tomatoes. I sometimes use tomato sauce. Today I chose creamy curry sauce with Parma ham. I also added black olives and chopped parsley. It was so yummy!

Ingredients (for 2 people)
150g of pasta
150g of Parma ham
1 clove of garlic
1 shallot
chili pepper
1 tablespoon of butter
150 ml of 30% sweet cream
1 teaspoon of curry powder
10 black olives
2 tablespoons of chopped parsley
salt and pepper

Dice the shallot, chili pepper, and garlic. Slice the Parma ham. Melt the butter in a pan and fry the shallot, garlic and chili pepper in it. Add the Parma ham and fry for a while. Pour in the sweet cream. Spice it up with salt and pepper and curry powder. Mix them in. Boil until the sauce is properly thick. Cook the pasta al dente. Mix the pasta with the sauce. Serve with sliced black olives and chopped parsley.

Enjoy your meal!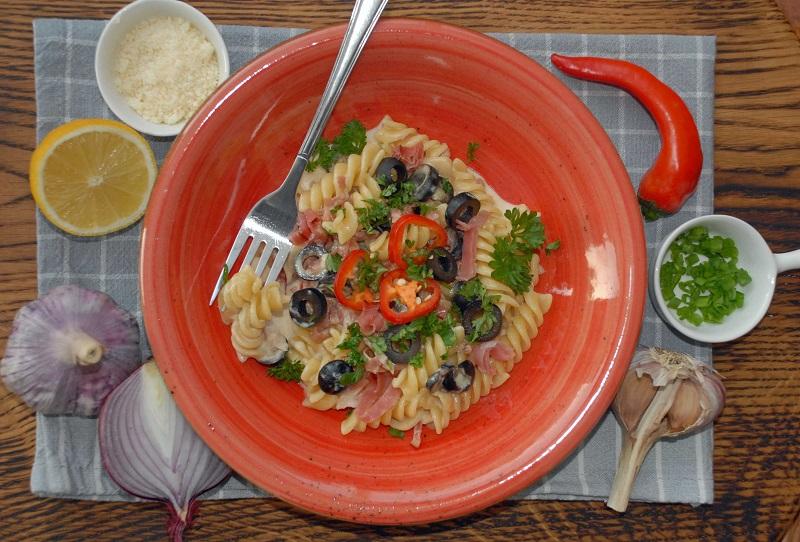 Try also:
Sicilian pasta with pistachios
Spring on a plate with asparagus spears in lemon sauce
Wholemeal pasta with chanterelles and courgette