For a few years being a vegetarian has become more popular. For many it isn't only a way of eating but a lifestyle and a way of choosing products, clothes and cosmetics. In my family becoming a vegetarian would be really difficult, but even we have been eating less meat lately. We have replaced it with legumes and soya products. Fortunately, eating a lot of fruit and vegetables isn't a problem, because we have always eaten loads. Today I offer a typical veggie lunch – a lot of vegetables, kasha, falafel and garlic yogurt sauce – colourful, delicious, light and healthy.

Ingredients (for 3 people)
falafel
300g of dried chickpeas
1 onion
2 cloves of garlic
4 tablespoons of chopped parsley
half a teaspoon of cumin
half a teaspoon of sweet paprika
half a teaspoon of curry powder
salt and pepper
oil for frying
sauce
200g of natural yoghurt
1 clove of garlic
half a teaspoon of mustard
salt and pepper
additionally
150g of bulgur
your favourite vegetables: broccoli, sweetcorn, onion, tomatoes, capers, olives

Soak the chickpeas for the whole night in cold water. Chop the onion and fry in oil. Strain the chickpeas, add the seasoning, crushed garlic and onion. Knead until the mixture sticks to your hands. Add the chopped parsley and spice it up with salt and pepper. Form small balls with the mixture and fry in oil until they are golden. Put the falafel onto a paper towel to drain the excess fat.
Prepare the sauce. Add the crushed garlic and mustard to the natural yoghurt. Spice it up with salt and pepper and stir.
Boil the bulgur in salty water. Blanch the broccoli to make it green, slightly soft but still crunchy. Arrange all the ingredients on a plate. Serve the sauce in a separate bowl.

Enjoy your meal!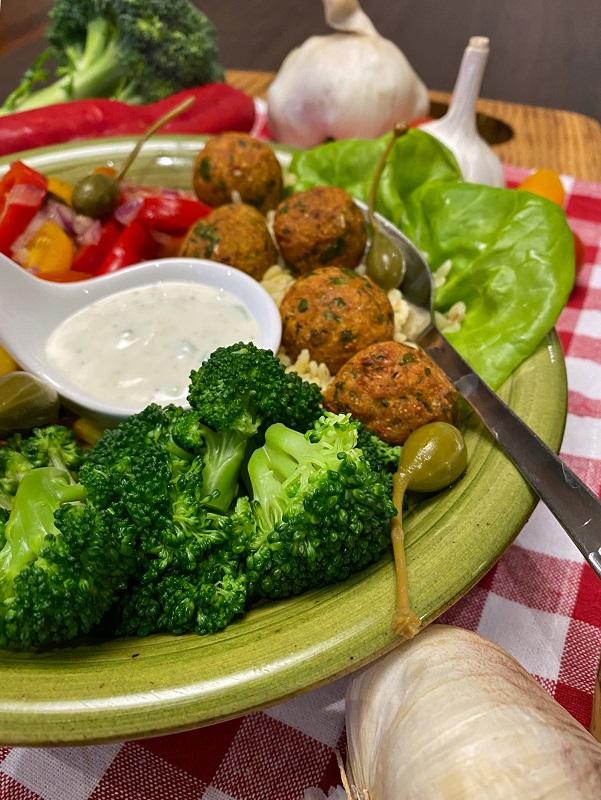 Try also:
Sicilian pasta with pistachios
Egg cutlets
Tripe soup from oyster mushrooms