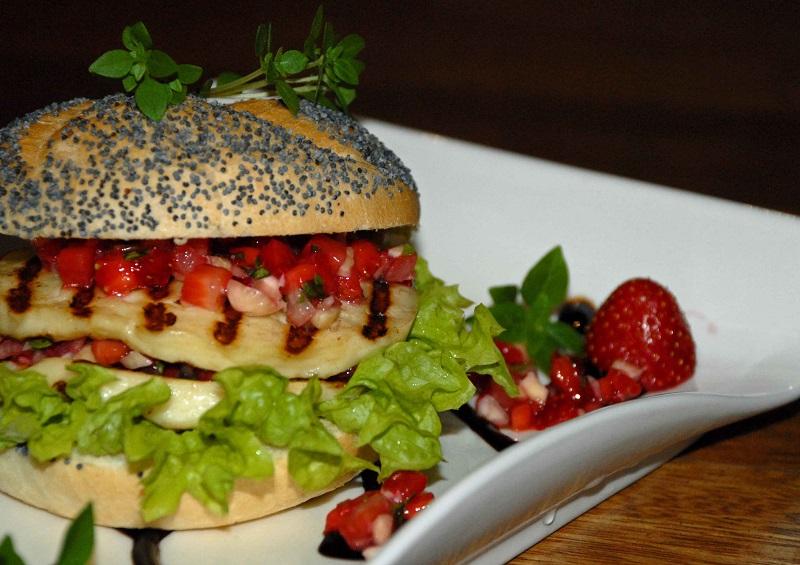 When we want to eat something simple, we often make a sandwich. When we prepare a fast supper, we often choose a sandwich. For breakfast when we have overslept? – a sandwich. As a result, thinking about sandwiches kills our appetite. This might not always be so bad, but sometimes we really need to eat. Today I would like to share with you a recipe for a slightly different sandwich. Instead of traditional vegetables, I recommend strawberry salsa, and rather than a slice of ham – a golden grilled slice of Halloumi cheese. Only one thing is missing – a fresh and fragrant bread roll.

Halloumi is a Cypriot cheese made with sheep's milk or a mixture of sheep's, goat's and cow's milk. It is semihard and so flexible that it is excellent for frying and barbecuing, and it is great fresh too.

Ingredients (for two people)
2 fresh rolls of your choice
2 big lettuce leaves
4 slices of Halloumi cheese
2 teaspoons of butter
salsa:
8 strawberries
half a chili pepper
2 tablespoons of minced peppermint leaves
¼ a red onion
2 tablespoons of chopped almond without the skin
1 teaspoon of honey
2 tablespoons of lemon juice
2 tablespoons of balsamic sauce

Start by preparing the salsa. Wash the strawberries, remove the shanks and cube them. Dice the onion and chili pepper. Mix the strawberries with the onion, chili pepper, peppermint and almonds. Spice it up with honey and lemon juice. Leave in the fridge for half an hour. Grill the slices of Halloumi cheese until they are golden. Cut the fresh rolls in half and spread them with butter. Put a lettuce leaf on each half of roll, then a slice of the Halloumi cheese, one tablespoon of salsa, another slice of cheese and two tablespoons of salsa. Spice it up with balsamic sauce. Cover with the other half of the roll. Prepare the second sandwich in the same way. Serve at once while the cheese is still hot.

Enjoy your meal!

Try also
A new approach to sandwiches
Bruschetta with tomatoes and avocado
Tortilla – tasteful and yummy packed lunch for school