Artichokes are distant cousins of the thistle. It is especially apparent when they flower. However ...

Artichokes are picked before they flower and their heads are still rolled up. The open, dark heads are inedible. The inner part of the artichoke is also inedible: the hair on the bottom of the flowers. Only newly ripe artichokes can be eaten whole.

Before you start to clean the artichokes, put on some disposable gloves. Dark finger tips are difficult to wash. After cleaning you have to put at once the artichokes into cool water with lemon juice (At once means immediately

) – otherwise they go brown faster than bananas, apples and avocado.

During the holiday we don't have much time for cooking. Today I would like to share with you the recipe for a fast and easy way to make a dish with artichokes, thanks to which you will appreciate the real taste of artichokes. I found the recipe at www.weganon.pl. I think that there is no easier way: a few basic ingredients, a few minutes for cleaning, a pot, a pan and ... it is ready. If you think for a while, it could be easier. You could order some in a restaurant or buy them pickled, but I assure you that it isn't the same. Getting inside the artichokes isn't easy, but you need one or two tries to learn it. In my opinion it is really worth it, because they are yummy.

Ingredients:
8 artichokes
3 cloves of garlic
4 tablespoons of chopped parsley
1 lemon
3 tablespoons of olive oil
salt and pepper

Prepare a big bowl of cool water. Squeeze the juice from half a lemon into it. Remove the outer petals of the artichokes until the remaining petals are light green, almost yellow. Cut the top off the artichokes leaving about 2/3 of the whole vegetable. Cut off the stems and the rest of the leaves. Cut the artichokes in half. Remove the hair above the hearts of the artichokes with a sharp knife. IMMEDIATELY put the artichoke into the lemon water. Boil some salty water in a pot. Add the artichokes and boil for 15 minutes. Take them out of the water and drain them. Dice the garlic. Heat the olive oil in a pan and fry the artichokes and garlic for a few minutes on a low heat until they are lightly brown. Sprinkle with the chopped parsley before serving. Spice them up with salt and pepper.

Enjoy your meal!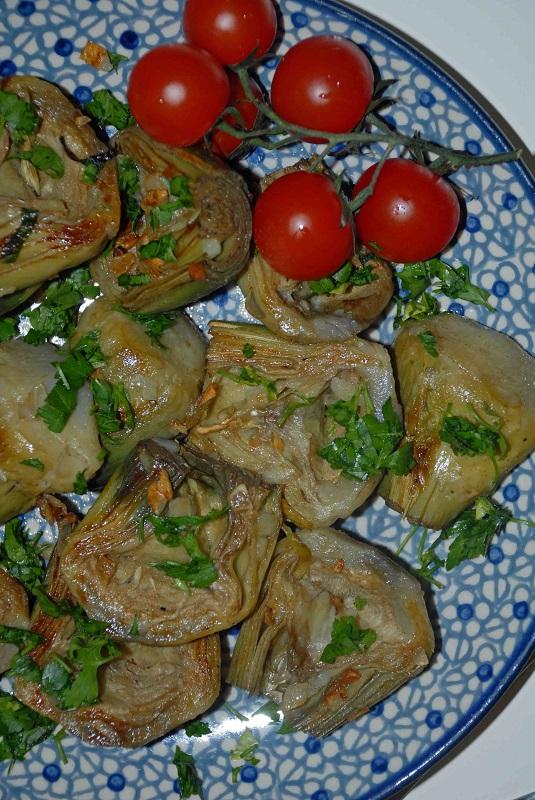 Try also:
Spring asparagus breakfast
Food bowl, i.e. yummy and easy
Making something out of nothing, i.e. small balls with courgette