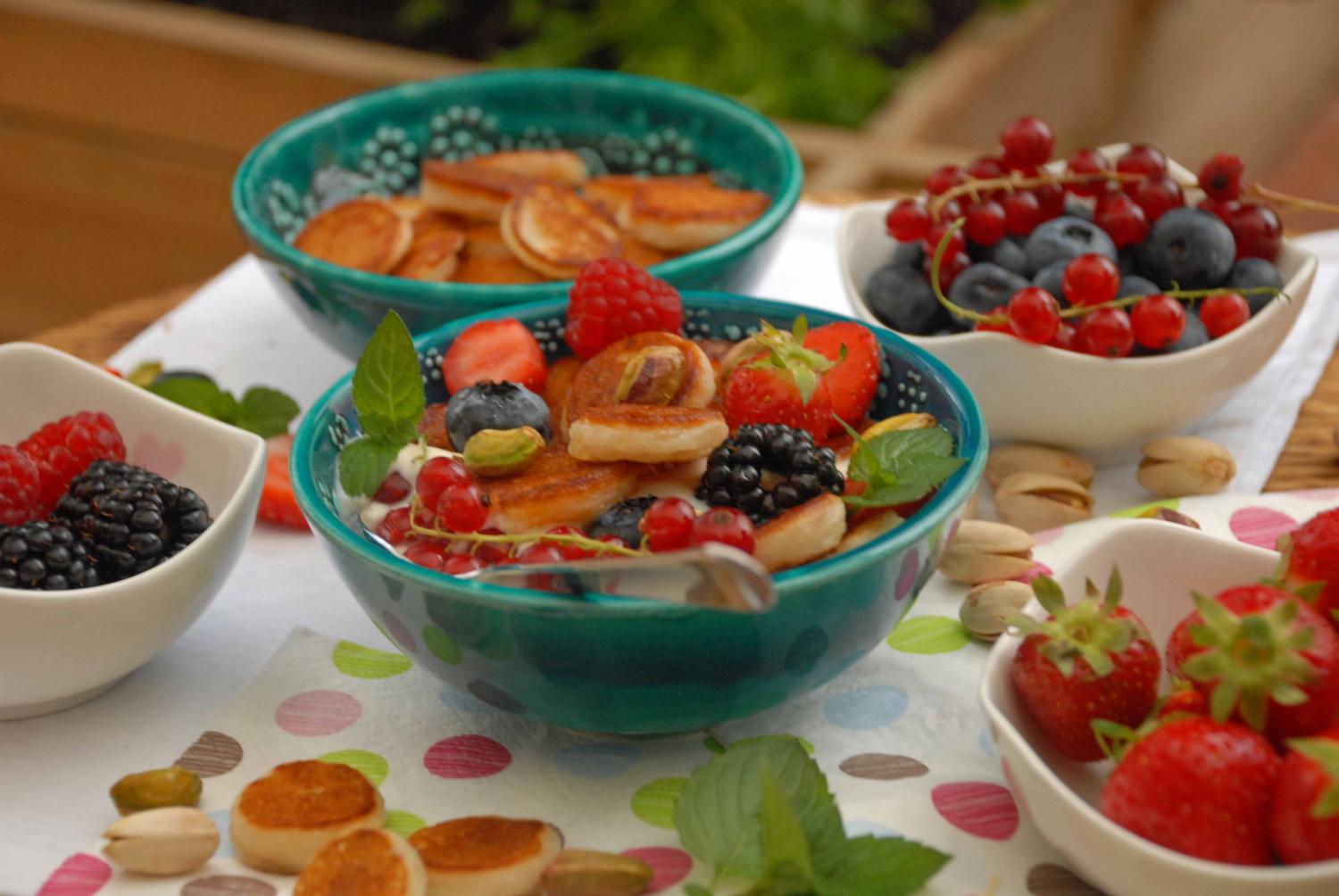 My son is not a poor eater. He eats everything he gets, he tries new flavours and develops his palate. We also have a deal: he has to try everything – even dishes he doesn't like, because maybe he will change his mind. Thanks to that, a lot of controversial meals are back on the menu. My son's only weakness when eating is that food disappears reeeeeeeaaaaaaally sssssslooooooowly

. You probably understand that it is very annoying in the morning, when we have to go to school. For some time I have been looking for dishes that will disappear quickly from my son's plate. Lately I took advantage of my son's love for pancakes. I prepared some small pancakes, which I served with yogurt, fruit and maple syrup. Immodestly I can tell you that it was a perfect shot. The breakfast disappeared fast. For sure it will often be on our table.

Ingredients:
150g of natural yoghurt
1 egg
120g of flour
1 teaspoon of baking powder
1 tablespoon of brown sugar
1 tablespoon of oil
maple syrup, fruit and natural yoghurt for serving

Mix the natural yoghurt with the egg. Add the sieved flour, baking powder, sugar and oil. Mix them in thoroughly. Put a small portion of the dough into heated oil in a pan. Fry on a low heat until golden. When small holes appear on top of the pancakes, turn them over. Serve with the natural yoghurt, fruit and a lot of maple syrup.

Enjoy your meal!

Try also:
Oat budino with home-cooked strawberry confiture
Turkish poached eggs
Perfect meal for breakfast – labneh cheese with dried tomatoes and wild garlic