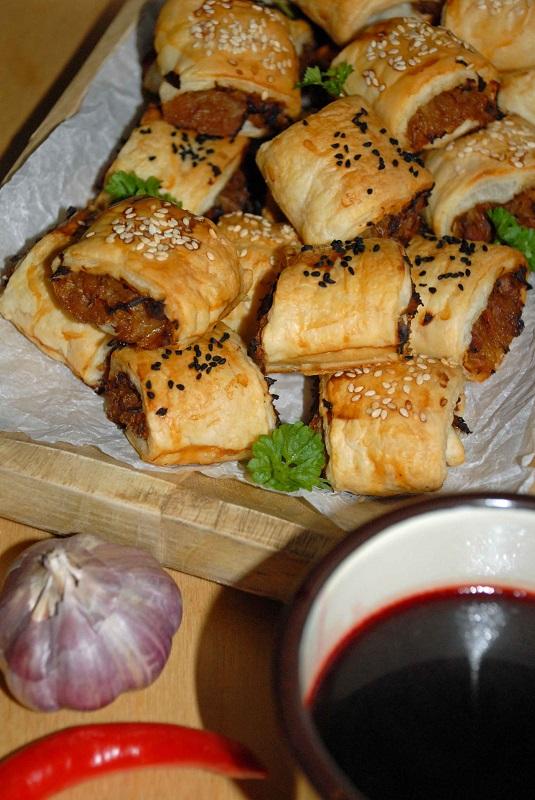 Borscht is one of our favourite soups. My children like it with small dumplings the most. This version can compete only with borscht with pasties. Sometimes I prepare small, yeasty pasties with sauerkraut which my children call "kapuśniaczki". They are time-consuming because the yeasty dough has its own requirements.

Today I would like to share with you the recipe for quick pasties with French pastry with sauerkraut. They were excellent. I also recommend preparing them with lentils, which also go very well with borscht.

Ingredients (20 pasties)
1 pack of chilled French pastry
2 tablespoons of milk
2 tablespoons of sesame seeds or nigella
stuffing
0.5kg of sauerkraut
1 onion
2 cloves of garlic
200g of smoked bacon
1 teaspoon of caraway seeds
2 tablespoons of butter
salt and pepper

Dice the onion and garlic and fry them in one tablespoon of butter. Add the diced bacon and fry for a while. Chop the sauerkraut. Melt the rest of the butter in a pan, add the sauerkraut, caraway seeds, onion, garlic and bacon. Stir, add some water and stew until the sauerkraut is soft. Spice it up with salt and pepper if necessary.
Heat the oven up to 190C. Cover a baking sheet with some baking paper.
Cut the French pastry in half lengthways. Put the stuffing along the middle of both strips. Fold them, stick the edges together and cut them into 3-4 cm pieces. Put the pasties onto the baking paper. Smooth them with milk and sprinkle with sesame seeds or nigella. Bake for 23-25 minutes.

Enjoy your meal!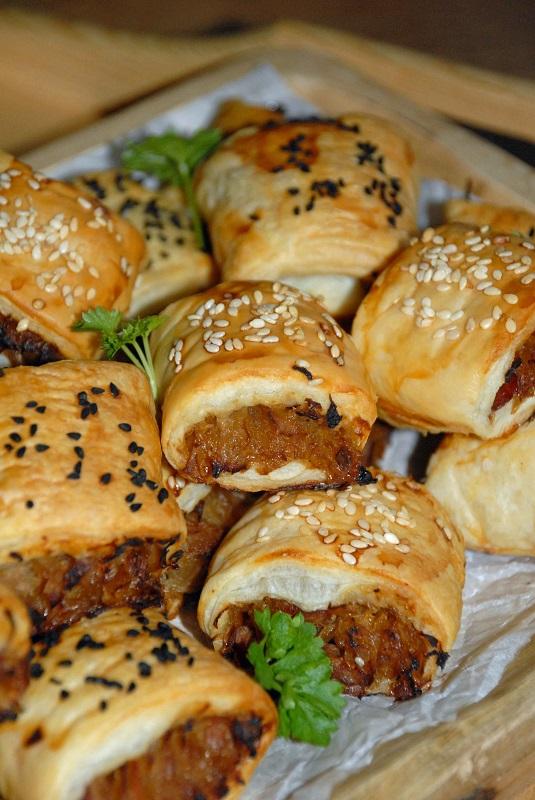 Try also:
Small buns with sauerkraut by Mrs. Ania
Toast with mushrooms, mozzarella and avocado.
French pastry rolls with courgette and goat cheese