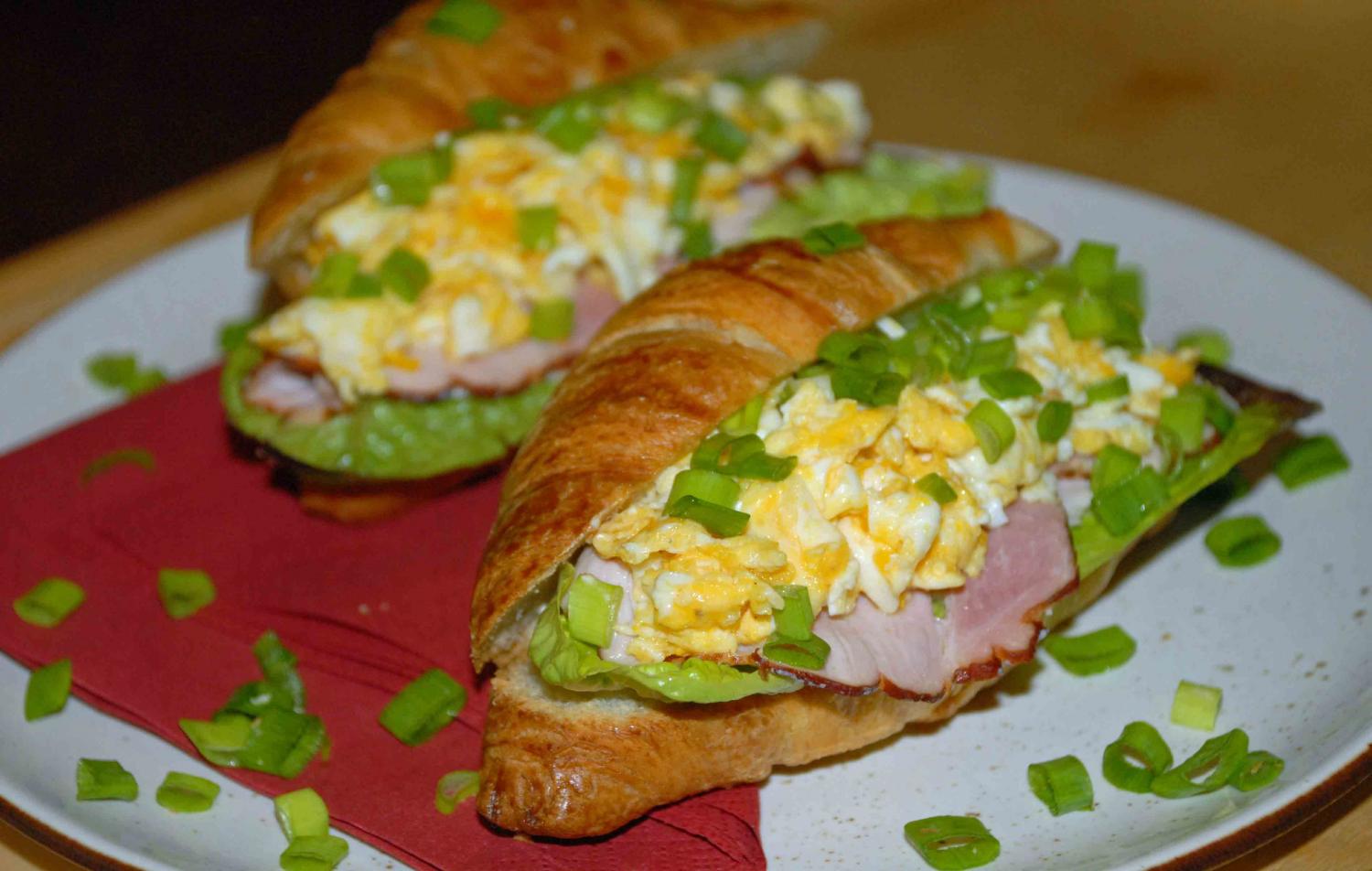 Everybody who every day wakes up early oversleeps at least once. I don't like such mornings. I know how much time I need to get my children and me ready and deviations from the routine cause a nervous atmosphere. Recently my daughter overslept. She ran to and fro nervously between the bedroom and bathroom, and didn't go into the kitchen once. It is obvious that if a teenager has to choose between washing and eating, she chooses the first one.

My housemates don't go out without breakfast, so this time I decided to help my raging daughter and prepared breakfast for her. It had to be a fast dish which she could grab and without wasting a second go to school. She only called out, "Thanks mum!", gave me a farewell peck on the cheek. There wasn't time for more.

It is ridiculous to talk about the recipe for this dish. The breakfast consists of a croissant (it may be a roll), a lettuce leaf, a slice of ham, scrambled eggs and chives. Everybody, even those who don't like the kitchen, has their own recipe for scrambled eggs. For this breakfast prepare scrambled eggs the way you like them or according to the amount of time you have.

Ingredients:
croissant
2 eggs
1 teaspoon of butter
leaf of lettuce
a slice of ham
1 tablespoon of chopped chives
salt and pepper

Cut the croissant almost in half. Heat it in the toaster. Melt the butter in a pan. Put the eggs into a bowl, spice them up with salt and pepper and stir gently. Put them into the pan and fry the scrambled eggs the way you like them. Smooth the inside of the croissant with some butter. Add the lettuce leaf, slice of ham and scrambled egg. Sprinkle with the chopped chives. Eat at once.

Enjoy your meal!

Try also:
Tortilla – tasteful and yummy packed lunch for school
My fisherman's burger
A sandwich to go