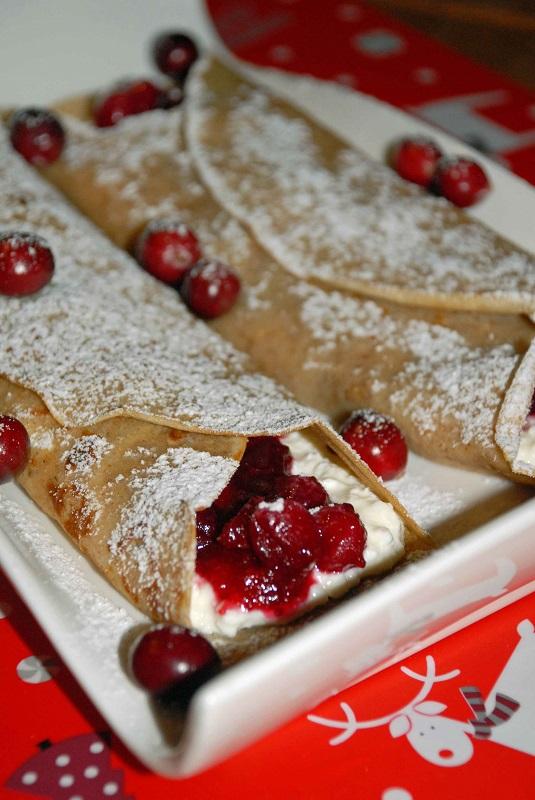 Adapting myself to the winter vibe outside, today I prepared some winter crepes. My son said they looked like they had been sprinkled with snow. They also taste great in the run up to Christmas. Cinnamon, ginger and cranberries are typical December ingredients. They warm you up, bring comfort, have a beautiful aroma, and make us want to immediately decorate the Christmas tree.

The fact that my son loves crepes is extra motivation to make them. I honestly can't blame him.

Ingredients
crepes
300ml of milk
300ml of sparkling water
6 tablespoons of flour
6 tablespoons of wholemeal flour
100ml of oil
1 egg
1 teaspoon of cinnamon
2 teaspoons of caster sugar
a pinch of salt
filling
350g of cottage cheese
3 teaspoons of caster sugar
1 teaspoon of vanilla sugar
150ml of natural yoghurt
300g of cranberries
3 tablespoons of brown sugar
1 teaspoon of grated ginger
50ml of orange juice

Mix the milk, water, egg, oil and salt together. Add the cinnamon and flour little by little and mix with a mixer to make a smooth and runny dough (if the texture isn't right, add flour or water). Tip a portion of the dough into a pan and spread it by moving the pan around. Fry the dough on one side, then flip it over until the dough is cooked and then fry the other side for a while. Put it on a plate.
Make the filling from the cheese, cream, sugar and vanilla sugar. I knead it with a fork, but you can use a blender if you like a smooth filling.
Wash the cranberries. Add the orange juice, ginger and the sugar and boil for 10-15 minutes. Try it and add some sugar if you think the dessert is too sour.
Put the cheese filling and cranberries onto every crepe. Roll it up and sprinkle with caster sugar.

Enjoy your meal!

Try also
A new approach to crepes
Chocolate crepes with apples
Spring crepes