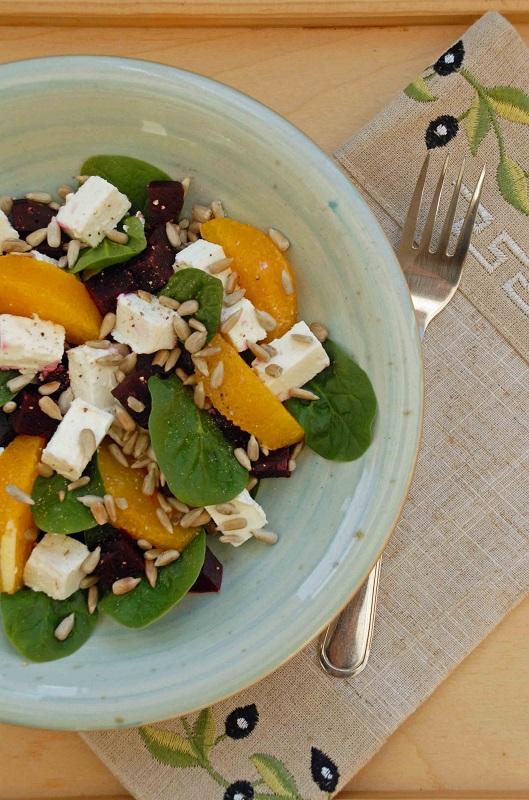 The spring brings with it commitments. It is worth working off your fat reserves to be able to fit into your summer clothes. It is impossible to hide your small winter sins under big sweaters. So we start immediately, beginning with our supper. Watching your waistline doesn't have to mean only self-sacrifice. Prepare a light, colourful salad with ingredients you like. You can replace mayonnaise with a light sauce or yoghurt. The dish will be beautiful, yummy and healthy.

I prepared one of my first spring salads with spinach, roasted beetroots, feta cheese and orange. I served it with sunflower seeds and a sauce made from orange juice and olive oil.

Ingredients (for 2 people)
3 fistfuls of spinach
2 beetroots
120g of feta cheese
1 orange
3 tablespoons of sunflower seeds
2 tablespoons of olive oil
salt and pepper

Heat the oven up to 190C. Wash the beetroots and cover each of them with aluminium foil. Bake for 30-40 minutes. Take the beetroot out of the oven. Peel and cube them when they have cooled down. Cube the feta cheese. Peel the orange, remove the white membrane and cut into pieces. Squeeze the juice from the rest of the orange. Mix the juice with the olive oil and add salt and pepper to taste. Wash the spinach and remove the stems. Arrange the spinach, feta cheese, beetroots, and orange in some bowls. Sprinkle with the orange sauce and roasted sunflower seeds before serving.

Enjoy your meal!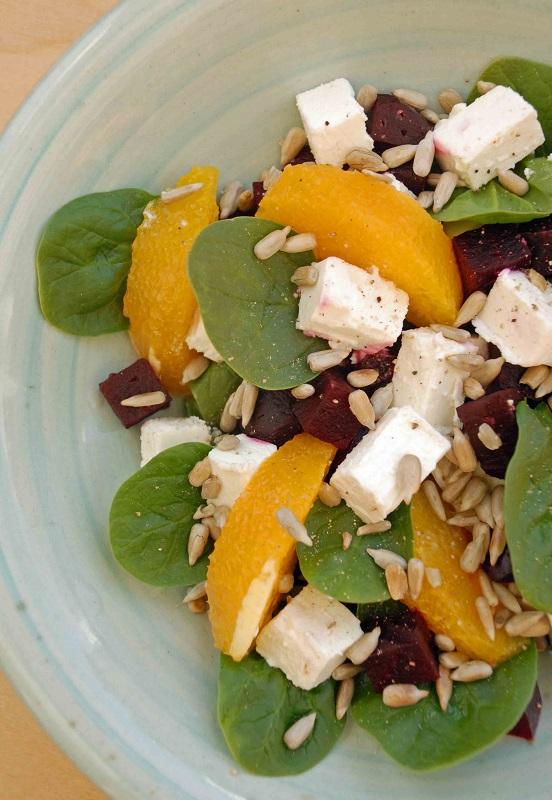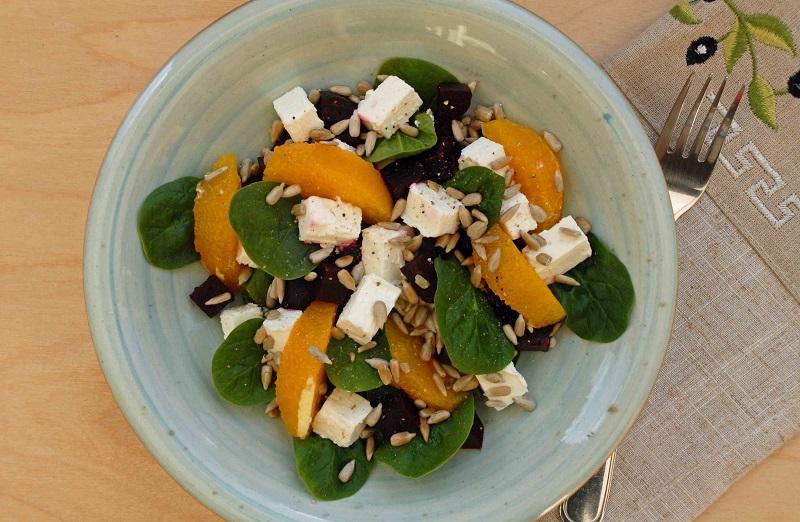 Try also:
Carpaccio with beetroots and goat cheese
Colourful light snack
Salad with asparagus spears and crunchy pistachio sauce