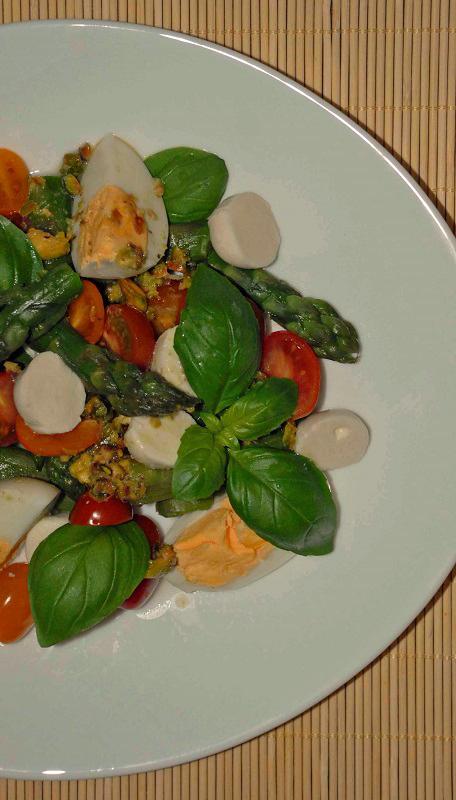 Reportedly, the devil is in the detail, and I think this is true. Sometimes a simple dish with ordinary ingredients is completely different when you serve it in an amazing dish or with surprising extras.

Today I managed to perform this trick on my salad. Because this is the asparagus spear season (long may it last), I prepared a salad with asparagus spears. I combined them with cherry tomatoes, mozzarella cheese and eggs. Only the sauce was amazing: lemon-pistachio sauce. It was the first salad I ever served with this sauce, and I'm sure that it won't be the last.

Ingredients (for 3 people)
a bunch of asparagus spears
200g of cherry tomatoes
200g of mozzarella cheese
3 eggs
fresh basil
sauce:
peel and juice of half a lemon
100g of salty pistachios
1-2 tablespoons of maple syrup
1 tablespoon of olive oil

Clean the asparagus spears and cut them into 3-4 cm pieces. Set aside the top pieces. Boil the pieces of asparagus spears (without the tops) in a saucepan for 5 minutes, add the tops and boil for another 2 minutes. Take the asparagus out of the boiling water (leave 3-4 tablespoons of asparagus water) and immerse it in cold water. Hard boil the eggs, peel and cut them into quarters. Cut the mozzarella cheese into smaller pieces. Clean the cherry tomatoes and cut them in half. Peel the pistachios and chop them up. Mix the pistachios with the olive oil, maple syrup, and the lemon peel and juice. Add a bit of asparagus water to dilute the sauce. Arrange the pieces of the asparagus spears, cherry tomatoes, mozzarella cheese and eggs on a plate. Sprinkle with the sauce. Decorate with the fresh basil leaves.

Enjoy your meal!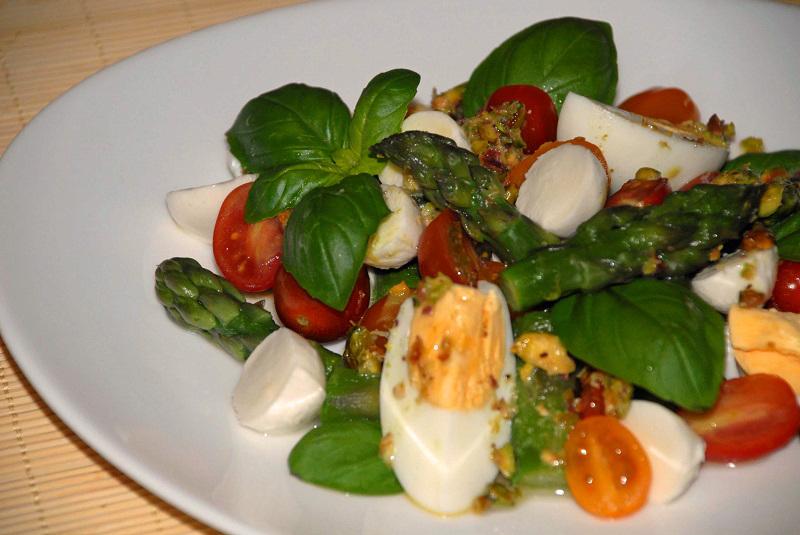 Try also
Salad with roasted beetroots and goat cheese.
A spring salad with asparagus
Fruit salad with salmon and mozzarella cheese